Welcome Teachers!

Theodore Roosevelt National Park is an ideal setting for your students to use the park as their classroom, and learn about ecology, geology, and history. Use the navigation on the left, or the links below, to help get you started.
Educational groups are eligible to apply for a fee waiver and receive free entry into the National Park. If you have any questions about the park or its educational resources, please contact us by phone at 701-623-4466 or by email.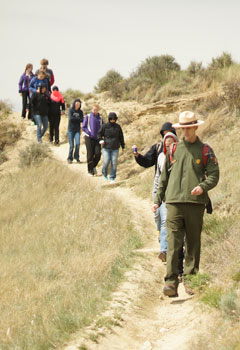 Find park-related lesson plans and activities to use in your classroom. Most lessons are designed for grades 4-6, but can be adapted for older or younger audiences.
Learn how to organize and lead your own field trip to the national park, or contact us for a ranger-led education program.
Our most popular and significant resource is the Maltese Cross Cabin, used by Roosevelt while he ranched here in the 1880s. Now you can explore the cabin and learn about Theodore Roosevelt's place in North Dakota history from the comfort of your own classroom!
Get involved! Read about our summer program for local teachers to work with park rangers to develop education resources to bring the park back into their classroom.