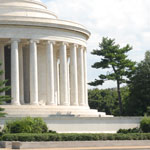 Thomas Jefferson Memorial

al -
By The Numbers
The memorial chamber is 165 feet in diameter.
The portico (columned front entry) is 102 feet wide.
The Jefferson statue inside is 19 feet high.
There are 54 columns in the Jefferson Memorial.
Each column is 43 feet tall and 5 feet 3 inches in diameter.
The memorial was dedicated on 04.13.1943, the 200th anniversary of Jefferson's birth.