Reminder, Bison Are Wild Animals

Windmill Pasture is home to the bison herd. They have been quite active in recent weeks. Please stay on the trails and use caution in their vicinity. Do not come in close contact with the bison. Allow at least 100 yards between you and the herd. More »
Handicap Parking Available at Visitor Center

For the next several months, the handicap parking area by the barn is closed until the barn construction project is complete. Handicap parking is available at the Visitor Center.
Plan Your Visit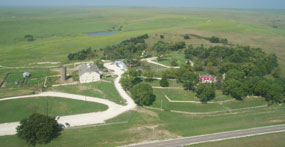 National Park Service
First Time Visitor
Please be aware of current conditions (click on this link) as you make plans for visiting Tallgrass Prairie National Preserve.
Begin your visit to the preserve at the visitor information desk located in our new visitor center. Visit our Operating Hours and Seasons page for further information. All access to the preserve is via walking or hiking. No private vehicle access is allowed.
Tallgrass Prairie National Preserve offers many opportunities to experience the rich natural and cultural heritage that exists in the Flint Hills of Kansas. To help you get started, here is a list of daily activities that a typical visit may include:
10-minute site orientation film in Visitor Center (watch additional video on YouTube)
Self-guiding ranch headquarters tour with map

Cell phone tour of historic buildings

Three frontcountry nature trails - open 24 hours year-round; no camping

Pets on leash welcome on frontcountry nature trails - See Pet Page for more info.
Backcountry hiking trails - open 24 hours year-round; no camping or pets

Junior Ranger Booklet - Children can earn a badge by completing five or more activities.
Additional activities are available during the summer months, with special weekend activities featuring in-depth natural and cultural programs.
Due to tour road conditions, the bus tours have been cancelled indefinitely. We suggest driving the Flint Hills National Scenic Byway K-177 to view the tallgrass prairie via your own private vehicle. A Scenic Overlook area is available just south of Cottonwood Falls, KS with waysides and benches.


From Memorial Day through the last Sunday in October, special interpretive natural resource and cultural history programs. Ask the rangers for the location of the scheduled interpretive activity.


From June 1 through Labor Day the one-room Lower Fox Creek Schoolhouse is open daily from 9 a.m. to 4 p.m.




Did You Know?

Kansas was once the bed of a vast inland sea. The unique, stairstep landscape of the Flint Hills was formed through a process of differential erosion. Erosion washed away the soft shale layers and left the tougher layers of limestone and flint to form the hilltops and prominent benches.