Plan Your Visit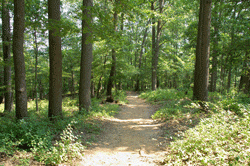 You'll find endless opportunities to explore and learn along the Star-Spangled Banner Trail. Some ideas to get you started:
Interested in history? Consider visiting one or several museums, monuments, cemeteries, forts, or battlefields.
Locate caches at historic sites and scenic parks by following the Star-Spangled Banner Geotrail.
Get your national park Passport stamped.
Discover dozens of interpretive waysides at the places where history happened.Explore the archaeology along the Patuxent River.

And much more -- use the trail's interactive online Adventure Planner to select sites and plan your trip.
Did You Know?

The low point in the War of 1812 for the United States was undoubtedly the British occupation of Washington in August of 1814. Neither Secretary of War John Armstrong nor any other high official in the government thought the capital was in jeopardy because it had no real strategic value.