Directions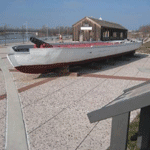 Explore an Interactive Map highlighting trail land and water routes and sites along the trail. The map will give you directions to your destination.
To find the trail, download a map guide.
The land route of the trail begins in Solomons, Maryland. The southern half is well-marked with route marker signage. The remainder of the land route will be marked over the next year.
Explore water segments with the aid of map guides and interpretive signage.
You can begin exploring the trail from any site or segment you choose. Here are some suggested places to start.
Did You Know?

The Chesapeake Bay region was a center of trade, commerce, and government during the 18th and 19th centures. As such, it became a target of British military strategy during the War of 1812.