Hiking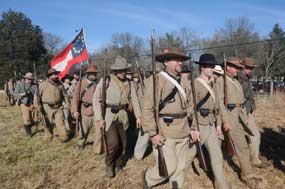 Stones River National Battlefield offers visitors nearly seven miles of trails for hiking and walking within the park. The park trail system also connects to the City of Murfreesboro's Greenways which boast 4.5 miles of paved trails along the Stones River and Lytle Creek.
Some trails, like the half-mile Cotton Field trail, are paved and fully accessible. Others like the 3.5 mile boundary trail offer a more challenging hiking experience through the woods and rocks that helped decide the outcome of the Battle of Stones River.
You can see our trails on the park map.
Did You Know?

The United States Sanitary Commission, a civilian organization, worked feverishly to improve health conditions at Fortress Rosecrans and in Union camps and hospitals across the nation. Their efforts probably saved thousands of lives. More...