Park Tour Road Closed Unitl 8 AM on Saturday September 13, 2014

The park tour road and visitor center parking lots will be closed until 8 AM while permitted 5K & 10K race passes through the park. Portions of the Old Nashville Highway will be closed as well.
Hiking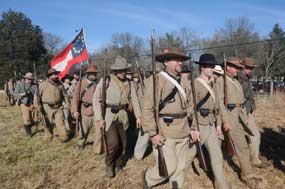 Stones River National Battlefield offers visitors nearly seven miles of trails for hiking and walking within the park. The park trail system also connects to the City of Murfreesboro's Greenways which boast 4.5 miles of paved trails along the Stones River and Lytle Creek.
Some trails, like the half-mile Cotton Field trail, are paved and fully accessible. Others like the 3.5 mile boundary trail offer a more challenging hiking experience through the woods and rocks that helped decide the outcome of the Battle of Stones River.
You can see our trails on the park map.
Did You Know?
Park rangers offer education programs that teach students about science & nature, math, language arts and the creative arts. More...