Life in a Caboose Program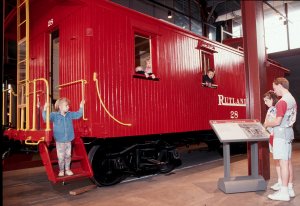 NPS Photo
Until the early 1980s, the red (or brown, yellow, blue, green, etc.) caboose captured the imagination of children of all ages. Using a caboose from the Rutland Railroad, visitors can find out how and why the caboose was used, and what life was like inside this small car at the end of a train.
Included in the Park Entrance Fee.

Note: This is an interpretive tour program, and does not include a caboose ride.
Did You Know?

The engineer drives the locomotive using the throttle lever, brakes, and reversing gear. He (or she) is in charge of the locomotive. The conductor, however, is in charge of the train. Learn more about railroad jobs at Steamtown NHS in Scranton, Pennsylvania. More...