Life in a Caboose Program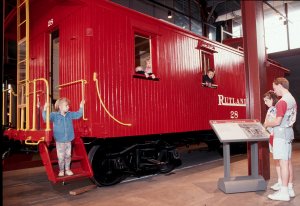 NPS Photo
Until the early 1980s, the red (or brown, yellow, blue, green, etc.) caboose captured the imagination of children of all ages. Using a caboose from the Rutland Railroad, visitors can find out how and why the caboose was used, and what life was like inside this small car at the end of a train.
Included in the Park Entrance Fee.

Note: This is an interpretive tour program, and does not include a caboose ride.
Did You Know?

Roundhouses were essential to steam railroading. Most steam locomotives required servicing about 150 to 200 miles when they were new. Find out more about what goes on in the Roundhouse at Steamtown National Historic Site. More...