Life in a Caboose Program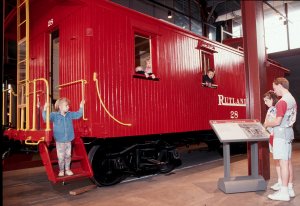 NPS Photo
Until the early 1980s, the red (or brown, yellow, blue, green, etc.) caboose captured the imagination of children of all ages. Using a caboose from the Rutland Railroad, visitors can find out how and why the caboose was used, and what life was like inside this small car at the end of a train.
Included in the Park Entrance Fee.

Note: This is an interpretive tour program, and does not include a caboose ride.
Did You Know?

Elijah J. McCoy, a brilliant African-American mechanical engineer, invented an automatic lubricator cup (or drip cup) for steam locomotives and other machines. It worked so well that inspectors, when checking in a new piece of machinery, would ask, "Is it the real McCoy?" More...