Life in a Caboose Program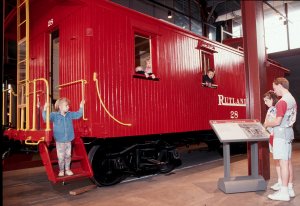 NPS Photo
Until the early 1980s, the red (or brown, yellow, blue, green, etc.) caboose captured the imagination of children of all ages. Using a caboose from the Rutland Railroad, visitors can find out how and why the caboose was used, and what life was like inside this small car at the end of a train.
Included in the Park Entrance Fee.

Note: This is an interpretive tour program, and does not include a caboose ride.
Did You Know?

Railroads are built with as few hills and curves as possible.  If a railroad cannot go over or around a hill, a tunnel is constructed through the hill.  Some of Steamtown National Historic Site's train rides travel through the Nay Aug Tunnel in Scranton, Pennsylvania. More...