Locomotive Shop Tour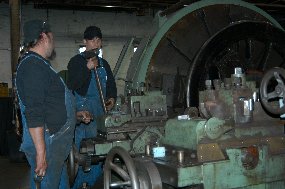 NPS Photo
Join a Park Ranger or a Volunteer on a 45-minute look at what it takes to maintain and repair steam locomotives. This walk through this historic Locomotive Shop of the Delaware, Lackawanna & Western Railroad allows all to see the huge behind-the-scenes system that was necessary for safe, efficient railroad operations.

Departs from the Visitor Center. Included in the Park Entrance Fee. Possible heat and noise warning.
Did You Know?

Turntables give locomotives access to the roundhouse and allow them to turn around. Steamtown National Historic Site, in Scranton, PA, has a 90-foot turntable. More...