Living History Program: Coal, Ash and Sand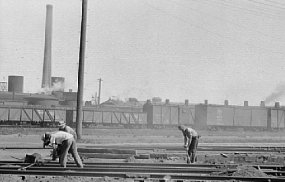 Library of Congress, FSA
Step back in time with Yard Worker Charles Merkel to learn a bit of what it was like to work in the Scranton Yards for the Lackawanna Railroad in the early 1900s.
Tour begins at the red sign "Living History Begins Here" in the Turntable Area between the Visitor Center and the Technology Museum. Included in the Park Entrance Fee.
Possible weather warning. This is an outdoor walking program.
Did You Know?

The engineer drives the locomotive using the throttle lever, brakes, and reversing gear.  He (or she) is in charge of the locomotive.  The conductor, however, is in charge of the train.  Learn more about railroad jobs at Steamtown NHS in Scranton, Pennsylvania. More...