Living History Program: World War II MP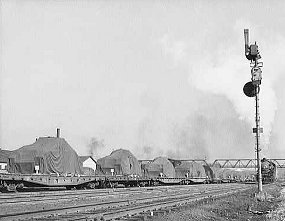 Library of Congress, FSA
Step back in time to the Second World War and join a Military Police Sergeant for a look at the close relationship between the military and the American Railroads.
Tour begins at the red sign "Living History Begins Here" next to the Big Boy locomotive on the North side of the Parking Lot. Included in the Park Entrance Fee.
Possible weather warning. This is an outdoor program.
Did You Know?

Railroads are built with as few hills and curves as possible. If a railroad cannot go over or around a hill, a tunnel is constructed through the hill. Some of Steamtown National Historic Site's train rides travel through the Nay Aug Tunnel in Scranton, Pennsylvania. More...