Living History Program: Mail by Train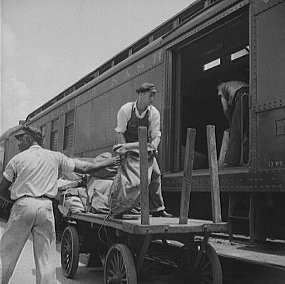 Library of Congress, FSA
Step back in time and join a Railway Mail Clerk for a look at this fascinating piece of railroad history.
Program begins at the Railway Post Office Car in the History Museum. Included in the Park Entrance Fee.
Did You Know?

The Delaware, Lackawanna & Western Railroad opened a new passenger depot in 1908. It included a Tiffany stained-glass ceiling, Italian and Austrian marble, and a terrazzo marble floor. You can learn more about this, and other, railroad architectural landmarks at Steamtown NHS. More...