Handcar Experience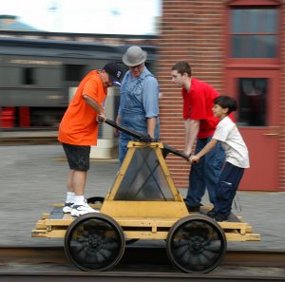 NPS Photo, Ken Ganz
Get a feel for track work in the old days on a hand powered work car from the early 1900s. These 'hand' or 'pump' cars allowed track workers to get to inspect or maintain their assigned portions of railroad's right-of-way.
Program takes place in the Turntable Plaza, just beyond the Visitor Center. Included in the Park Entrance Fee.
Weather-permitting; this is an outdoor program.
Did You Know?

When boiled, a cup of water creates about 1,600 cups of steam! When the resulting steam is contained in a vessel such as a steam locomotive boiler, it can create up to 300 pounds per square inch of pressure. Learn more about steam locomotives at Steamtown National Historic Site! More...