NPS Photo
You can tour the History and Technology Museums or Roundhouse, explore special exhibits or watch the movie "Steel and Steam". You can also join a Park Ranger or Volunteer on a Scheduled Tour of our Locomotive Repair Shops. Seasonally, you may want to experience our short train rides or longer train excursion programs. Explore the links above to learn more about these activities prior to your visit.
Steamtown NHS is only one great reason to visit the greater Scranton area!
Visit our Nearby Attractions page for links to more local and regional attractions.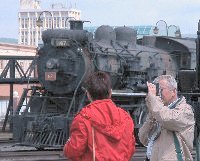 NPS Photo
Scheduling

Visit our Scheduled Tours page to learn about this month's activities. Due to staffing and equipment availability, the Scheduled Tours page is updated monthly, with each month's schedule posted one-two weeks before the start of that month.

You can search our Events Calendar for this season's longer excursion rides, or you can view and print your full copy by visiting our Train Rides page.