Lackawanna Passenger Station 100th Anniversary Exhibit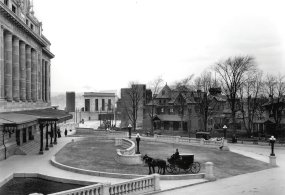 W. Bunnell, DL&W, Steamtown NHS Collection
The former Delaware, Lackawanna & Western Railroad completed a new passenger station, now the Radisson at Lackawanna Station Hotel, in 1908. It was built to replace a much smaller station that was located along Lackawanna Avenue near Franklin Avenue, about 7 blocks west. Its Beaux Arts design was created by renowned New York architect Kenneth Murchison in 1906, and took 14 months to complete. It is constructed of brick and steel, with concrete floors and partitions. The exterior is faced with Indiana limestone and an 8-foot bronze clock on the façade. The main entrance leading to the former waiting room is furnished in Formosa, a soft, pinkish-yellow Italian marble. Other areas of the former waiting area and halls are decorated with imported marble, and the barrel-vaulted ceiling is Tiffany glass. Originally constructed as a 5-story structure at a cost of approximately $600,000, a 6th floor was added in the 1920s to create additional office space.
The building fell into disrepair when its last railroad owner, Consolidated Rail Corporation (Conrail) merged Scranton offices with its Philadelphia headquarters location and closed the building in 1977. Later that year, the facility was added to the National Register of Historic Places. In 1983, the grand structure was restored to serve as a full-featured luxury hotel at a cost of $13 million.

The historical significance of this majestic building is a reminder of Scranton's proud, colorful and extraordinary past as well as a symbol of the city's ongoing renaissance.
A temporary exhibit, showing scenes from the buildings 100 year history, will be on display mid-June through December, 2008, in Steamtown's Changing Exhibit Gallery on the Mezzanine Level of the Visitor Center. This exhibit is included in the Park Entrance Fee.
Did You Know?
Many railroads, particularly Eastern roads, used anthracite coal for locomotive fuel during the early steam era. During World War I, the US Navy and the Allied Forces used anthracite coal to power the steam boilers of warships such as Admiral Dewey's USS Olympia, which is berthed at the Independence Seaport Museum in Philadelphia. Burning anthracite resulted in low-smoke emissions from steamship boilers and gave the Allies a strategic opportunity to close-in on the enemy in a battle. With anthracite coal diverted to the war effort, locomotive builders adapted to using bituminous coal in their future designs.