Getting Around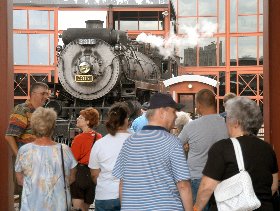 Be prepared for gravel, dirt, concrete and macadam footing, and remember that steam locomotives can create wet and slippery spots from condensed steam and oil drips.
NPS Photo
Please be prepared for walking on concrete, wood, brick and gravel, ramps and stairs. There may be slippery spots from oil and grease drips, especially during inclement weather.


Did You Know?

Elijah J. McCoy, a brilliant African-American mechanical engineer, invented an automatic lubricator cup (or drip cup) for steam locomotives and other machines. It worked so well that inspectors, when checking in a new piece of machinery, would ask, "Is it the real McCoy?" More...