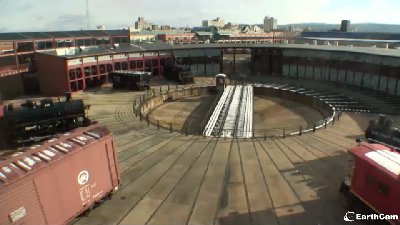 EarthCam
Roundhouse and Turntable EarthCam

In partnership with EarthCam, the National Park Service is excited to offer this LIVE webcam of our Roundhouse and Turntable complex! If you are planning a visit, you can get a feel for the museum complex. If you are unable to visit just now, you can watch and listen to the action LIVE during our seasonal excursion season, April - November!

The turntable is presently out of service.

Turntables were primarily used by railroads during the steam era. Locomotives awaiting light-duty maintenance and repairs were moved from yard tracks onto the turntable by a hostler. The turntable operator would then use controls to operate the electric motors that powered the turntable to rotate, aligning the turntable tracks with those for an available maintenance bay in the roundhouse. When servicing and minor repairs of that locomotive were complete, it would be backed onto the aligned turntable again, and rotated again to align with yard tracks that allowed the locomotive to return to revenue service or await a new assignment.

After years of faithful service at Steamtown NHS, our 90-foot turntable is in need of major rehab and repairs.

Spalling of the interior turntable concrete has occurred from many years of rain and snow-melt leaking into the wall, causing it to expand outward toward the turntable. This concrete needs to be removed and replaced. Additionally, the wheels operating beneath the turntable need to be raised to provide clearance for the carriage on the bottom. While we do not have a return-to-service completion date for the turntable, we are working proactively with structural and design engineers to provide the most effective and cost-efficient repairs necessary to return the turntable to service.

Some quick info about the EarthCam equipment:
-- StreamCam HD with Audio
-- 2 megapixel high resolution images
-- Camera streams broadcast-quality video at full frame
-- Unique double locking mount ensures jitter-free transmission