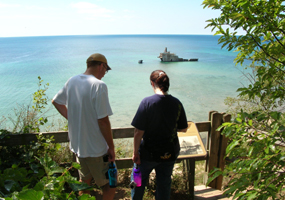 Kerry Kelly 2005
2. The Shipwreck of the Morazan - Hike from the village to the wreck of the Francisco Morazan on the south shore of the island to see the remains of the ship, which is only partially submerged. The shipwreck is about 2.5 miles from the dock. You can either take Brudick Rd to Ohio Rd near Florence Lake and turn left to the trail, then turn right on the trail that leads to the shipwreck and the cedars. Or you can take the trail through the village and past the Weather Station campground which will continue on to the shipwreck and the cedars.
When you get to the shipwreck, you will be standing on the bluff overlooking the ship. You can hear (and smell) the double-crested cormorants which now live on the ship.
The Francisco Morazan left Chicago bound for Rotterdam on November 27, 1960 when it was battered by strong northwest winds the following day. Waves were washing over the decks and the crew was blinded by heavy snow squalls. Their position was off by more than 70 miles from what they thought and they ran the 246 foot freighter aground on the southern shore of South Manitou Island. The crew, Captain, his wife, and unborn child were rescued, but the ship and all of the 940 ton of cargo were lost.