No water at Weather Station Campground until further notice.

The well at the Weather Station Campground is down for repair. Water is not available at the campground at this time.
Sanitation and Water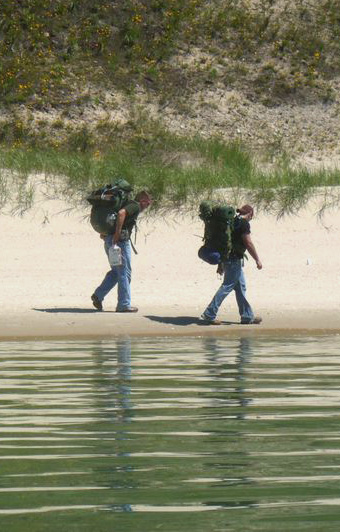 HUMAN WASTE
Outhouses on North Manitou Island are present only in the village and the Village Campground.
In the backcountry, use a small hand trowel to dig a cathole, which is a pit for human feces. Catholes must be at least 100 feet away from trails, campsites and buildings, 300 feet from water, and 6-8 inches deep. When finished, cover the hole with dirt and other natural materials to disguise the cathole. Groups should establish a communal privy and cover it after the last use.
Toilet paper should be used sparingly, and must be either buried deep in a cathole or packed out. Place toilet paper in a sealable plastic bag to pack out.
Used feminine items must be packed out.
Urine has little impact on the environment or human health. Diluting urine with water can decrease impacts.
WASHING
Wash yourself and your dishes at least 200 feet (about 70 adult steps) away from streams or lakes using a small amount of biodegradable soap. Scatter strained dishwater after use. Pack out all food waste.
DRINKING WATER
Potable water can be obtained only in the village. All other water must be boiled for one minute or treated with a water filter or purifier before drinking. Most backpacking water filters will remove present waterborne bacteria. Pumps, gravity bladders, and water tablets are examples of useable water purifiers. It is suggested that each hiker have the capacity to carry a minimum of 2 liters of drinking water.
Did You Know?

The Piping Plover is an endangered species that makes its home on the wide open beaches of Lakes Michigan and Superior. Several nesting pairs have made the shores of Sleeping Bear Dunes National Lakeshore their home. Their nesting areas have been marked so they will not be disturbed.