Camping on South Manitou Island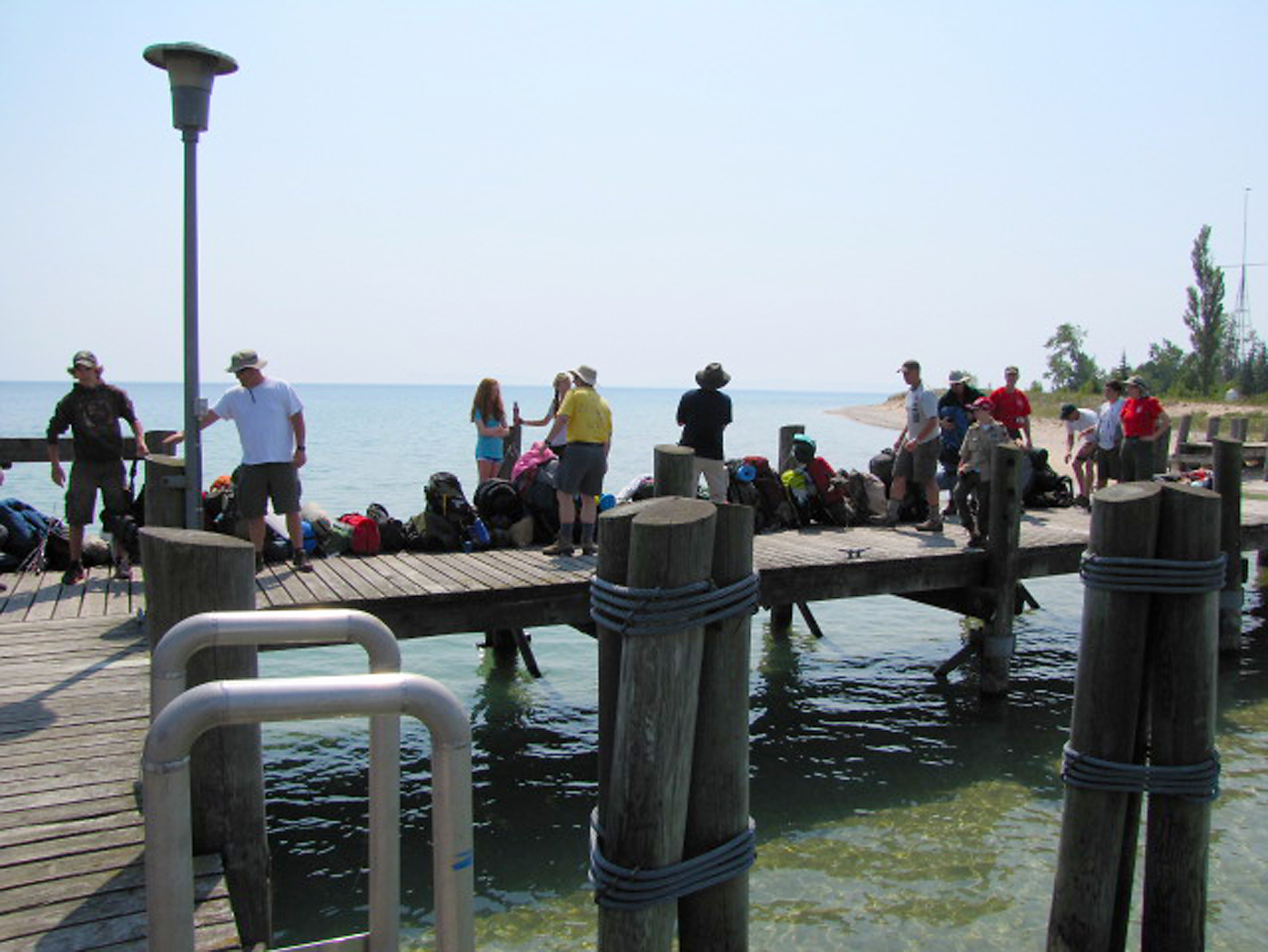 Camping on South Manitou Island is only permitted at three following locations:
The Bay Campground is the closest campground to the dock, so if you want to minimize the hike with a pack but want a great camp site with only a short walk to the beach, this is the campground for you. There is water available at the campground. There are 25 Individual Sites and 3 Group Sites.
The Weather Station Campground overlooks Lake Michigan from the bluffs on the south side of the island. Camp sites are well secluded from each other and have fire pits for open fires. Follow the wooded trail past the lighthouse about 1.3 miles to the campground. Bring water filtration equipment since there is no source of purified drinking water. There are 20 Individual Sites and 3 Group Sites.
The Popple Campground is the furthest from the dock (about 3.5 miles), so you are likely to have fewer people camping there. The campground is close to the beach on the northern tip of the island. Bring water filtration equipment since there is no source of purified drinking water. There are 7 Individual Sites
Low impact camping is the rule to minimize human impact on the fragile natural resources.
There is no transportation for camp gear so you must pack it in (travel light). Food should be stored in hard containers or hung from a line to thwart chipmunks.
Don't take firewood to the islands! Island campers may collect dead and down wood found on the island for personal use during their visit; however, unused wood must remain on the island. The State of Michigan Department of Agriculture and Rural Development's Emerald Ash Borer Quarantine strictly prohibits transporting firewood to North and South Manitou Islands.
Individual Campsites
Individual sites are limited to 4 persons and 2 tents. Campers must purchase a Backcountry Use Permit before camping. Permits are $5.00 per night per campsite. Park passes and permits are available at the Fishtown dock in Leland during the summer months. During the off-season, you can contact the Philip A. Hart Visitor Center in Empire for permits. Upon arriving at the island, a park ranger will meet you at the dock to complete camper registration and to help you plan your visit.
Community (shared) fire rings are provided in the Bay and Weather Station campgrounds only.
Group Campsites
There are three group campsites at Bay Campground and three group campsites at Weather Station Campground, each designed to hold from 9 to 20 campers (maximum of 10 tents). Group sites are available by reservation only.
Reservations for group campsites at Bay and Weather Station campgrounds can be made (up to one year in advance) on-line and over the phone through Recreation.gov:
South Manitou Island group sites online reservation
Phone reservations: Reservation Center at 1-877-444-6777.
The center is open daily from 10:00 a.m. to 10:00 p.m. eastern time.
If you have questions, please call the park at 231-326-4700.
The fee for group camping does not include transportation to the island. Check out our Plan your trip to the islands page for information on ferry reservations and other considerations for your trip.