Bicycling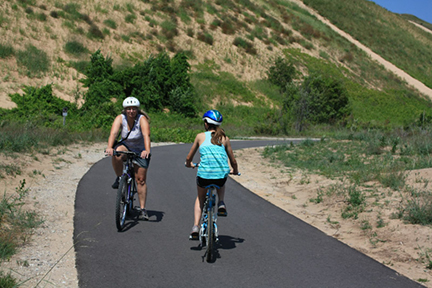 Kerry Kelly 2012
Riding your bicycle in the Sleeping Bear National Lakeshore is a great way to experience the beauty of the area and get some exercise at the same time. Bicycling is permitted only on the
Sleeping Bear Heritage Trail
and maintained roads in the park. Bikes are not permitted on hiking trails, but any road open to automobiles can be used for biking-including 2-track roads. Roads within campgrounds, the back roads around Port Oneida, and the Pierce Stocking Scenic Drive can all be used for biking.
The Sleeping Bear Heritage Trail is paved and intended for use by visitors on bikes, walking, running, and skiing. The trail is accessible to visitors with handicaps as well. The first segment of the planned 27-mile long trail goes from the Dune Climb to the village of Glen Arbor, through the historic logging village of Glen Haven and the D. H. Day campground. Parking is available at the Dune Climb and Glen Haven village. A park pass is required to park in these areas.
---
Road Bike Touring
Bike clubs frequently schedule trips to the Sleeping Bear Dunes area because the terrain in the area provides a variety of levels of challenge. M-22, M-109, and M-209 are all generally flat to moderately rolling. The Pierce Stocking Scenic Drive is quite challenging with steep hills and curves. Some of the county roads in the area have relatively steep hills, so it is wise to take a tour of your proposed bike trip by car before starting out.
Nearby Biking Areas
For those who enjoy mountain biking on single track trails, there are two Michigan State Forest trails just east of the National Lakeshore that allow mountain bikes. Lake Ann Pathway is located just west of Lake Ann on Reynolds Road. Lost Lake Pathway is located 1.5 miles west of Interlochen on US 31 then 1 mile north on Wildwood Rd.
The Betsie Valley Trail is a paved rail-trail south of the Lakeshore that goes from Frankfort and Elberta to Crystal Lake. The trail is gravel from Crystal Lake to Thompsonville.


Did You Know?
In the US, invasive species are the second biggest threat to native ecosystems after habitat loss. They reduce diversity, alter disturbance regimes, and have cascading effects on food webs, costing upwards of $140 Billion per year. More...