PATC Cabins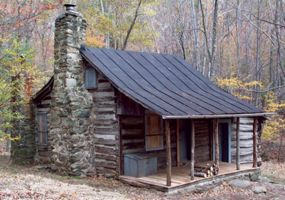 NPS Photo
The Potomac Appalachian Trail Club (PATC) maintains six locked, primitive cabins in the park and a number of additional cabins outside the park. The cabins are equipped with mattresses, blankets, and cookware. A pit toilet and spring water are nearby.
To get information or to make reservations, visit PATC online.

Call PATC:
(703) 242-0693 or (703) 242-0315
Write PATC:
PATC
118 Park Street SE
Vienna, VA 22180.
Did You Know?

In 1928, wanting to escape the heat and humidity of summers in Washington, D.C., Herbert and Lou Henry Hoover began looking for a "summer place" within a day's drive of the city. The Hoovers acquired land within the proposed Shenandoah National Park and built Rapidan Camp, their summer White House.