Vehicle Fuel Available at Big Meadows ONLY!

Vehicle fuel is only available at Big Meadows (mile 52). Gas service has been discontinued at the Loft and Elkwallow areas.
PATC Cabins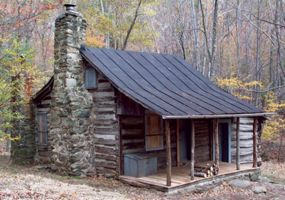 NPS Photo
The Potomac Appalachian Trail Club (PATC) maintains six locked, primitive cabins in the park and a number of additional cabins outside the park. The cabins are equipped with mattresses, blankets, and cookware. A pit toilet and spring water are nearby.
To get information or to make reservations, visit PATC online.

Call PATC:
(703) 242-0693 or (703) 242-0315
Write PATC:
PATC
118 Park Street SE
Vienna, VA 22180.
Did You Know?

Skyline Drive rides the crest of the Blue Ridge Mountains for 105 miles through Shenandoah National Park, and joins the Blue Ridge Parkway which connects Shenandoah to Great Smoky Mountains National Park, NC. More...