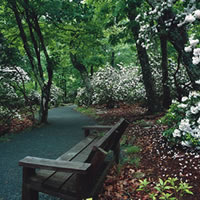 John F. Mitchell
Most facilities and services in the park are accessible or accessible with assistance.
Restrooms and Buildings
Most are accessible or accessible with assistance.
Lodging
Accessible overnight lodging is available at Lewis Mountain, Skyland Resort, and Big Meadows Lodge. Click here for more information about accommodations.
Picnic Grounds and Campgrounds
Accessible sites are available at all park picnic grounds and campgrounds. Accessible shower and laundry facilities are available at Big Meadows, Lewis Mountain, and Loft Mountain campgrounds. Restrooms at picnic grounds are accessible or accessible with assistance.
Ranger Programs
Many of Shenandoah's ranger-led programs are accessible, including the van tour to President Herbert Hoover's historic summer retreat, Rapidan Camp. Click here for a listing.
Limberlost Trail
Limberlost Trail (milepost 43), is often enjoyed by people with mobility challenges. The trail was originally constructed to meet ADA accessibility standards; however, the requirements have recently been revised. Shenandoah National Park has plans to upgrade Limberlost to meet the new standards. In the meantime, use this description of the trail to determine if it is appropriate for your use: This circuit hike of 1.3 miles is for people of all ages and has a 5'-wide crushed greenstone walkway on a gentle grade with frequent benches, a boardwalk, and a bridge. The trail passes through forest and a stand of mountain laurel - stunningly beautiful when it blooms in June.