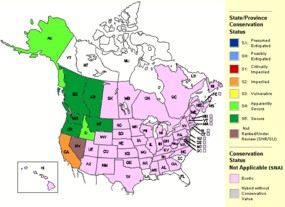 www.natureserve.org
Habitat and Range
Wild rainbow trout populations within Virginia most often occur in small rocky streams in forested landscapes. Hatchery reared rainbows are widely stocked within streams, rivers, ponds and lakes throughout central and western Virginia. Rainbow trout were first liberated in stream habitats within and downstream of the park in 1943. The wild rainbows that inhabit Pass Run within the park are believed to have descended from hatchery stock introduced downstream during the 1950s. Rainbow trout have also successfully reproduced intermittently in the North Fork Moorman's River since 1957 as the result of stocking programs downstream.
Rainbow trout are considered native in the North Pacific Ocean and associated drainages from the Amur River in eastern Asia, north along the Pacific slope including the KamchatkaPeninsula and extreme northeastern Russia and along the Pacific slope of North America from Alaska south to northern Mexico. Like the brown trout, rainbows have been extensively introduced and now occur on every major continent except Antarctica.
Behavior
Rainbow trout are not as closely associated with streambed or benthic habitats as are brown trout nor are they prone to frequent deeply shaded habitats like brook trout. Rainbows prefer open runs where they tend to feed at the surface more frequently than the other two trout species.
Diet
Like the other trout species, rainbow trout are opportunistic feeders, readily taking aquatic insects encountered in drifting water flow and terrestrial insects that fall into the stream. Larger individuals will include fish in their diets just as readily as any other large trout. A 12 inch rainbow captured in Pass Run during June, 1997 had at least 19 partially digested to entire cicadas within its stomach along with a partially digested longnose dace and a number of other smaller insects.
Ecosystem Role
Naturalized rainbow trout populations within the park likely have adapted to and assumed a similar ecosystem role to native brook trout populations. In smaller streams such as Pass Run, rainbow trout very likely compete with brook trout for available habitat and food resources. Competition factors are likely magnified during periodic surges within the rainbow trout population. Within the park, rainbow trout are likely preyed upon by northern water snakes, mink, kingfishers, herons and the occasional otter.
Threats
While not typically encountered in size classes beyond 12 inches in park streams, large rainbow trout of comparable size to large adult brook trout can be aggressive competitors for available habitat within the confines of a small stream. Fortunately, the Pass Run population is the only naturalized rainbow trout population currently persisting within the park. The limited and sporadic production within the lower reaches of the North Fork Moorman's River apparently results from very few, occasional redds as the result of rainbows stocked just downstream of the park boundary. The degree of displacement pressure on brook trout posed by these rainbow trout populations is currently unknown.
Naturalized rainbow trout populations within other portions of native brook trout range have proven to be problematic for brook trout, principally via displacement. Generally, displacement issues are greater where naturalized rainbow trout populations are well established and more widespread. Such is the case in within some sections of Great Smoky Mountains National Park and vicinity, and in southwestern Virginia. Rainbow trout are the most dominate trout in the MountRogers area for example. North of Roanoke, the distribution of rainbow trout is more limited to spring creeks of which Pass Run is a good example.
Generally, rainbow trout are more sensitive to the effects of acidification than either brook or brown trout. Pass Run, particularly the section downstream of the park, is one of the most well buffered and productive streams within or adjacent to the park since it flows extensively over limestone and is fed by a number of large limestone springs.
References
Atkinson, J.B. 2005. Shenandoah National Park Fisheries Monitoring Program Annual Report for 2004. Division of Natural and Cultural Resources, Luray, Virginia 22835. 46 pp.
Jenkins, R.E., and N.M. Burkhead. 1993. Freshwater fishes of Virginia. American Fisheries Society, Bethesda, Maryland. 1079 pp.
Lennon, R.E. 1961. The Trout Fishery in Shenandoah National Park. Special Scientific Report-Fisheries; No. 395. USFWS. 16 pp.
Virginia Department of Game and Inland Fisheries Species Description