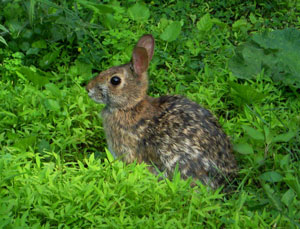 Over 50 species of mammals live in Shenandoah National Park. Virtually all park visitors see some mammals, such as white-tailed deer and gray squirrels. Others, like the big brown bat, striped and spotted skunks are more elusive, remaining largely out of sight until darkness falls. Black bears and bobcats, though sometimes active during the day, seem to remain hidden deep in the forest. The smallest mammals (moles, voles, and shrews) found in the park are rarely seen because they spend much of their lives underground or hidden under leaves and low growing plants. Careful observation should bring rewards in finding many of the wild inhabitants of the park.
Just as the number and distribution of mammals varies somewhat from year to year, the number of species present in the park changes over time. For example, coyotes, an adaptable predator, have recently expanded their range in Virginia and can now be found throughout the park.

Related Information
One useful reference on mammals found at Shenandoah National Park is:
Linzey, D.W. 1998. The Mammals of Virginia. The McDonald & Woodward Publishing Company, Blacksburg, Virginia.
Websites that provide photographs and helpful biological information about mammals include the following:
University of Michigan Museum of Zoology
American Society of Mammalogists - Mammalian Species

Listing of these websites does not and is not intended to imply endorsement by the National Park Service of commercial services or products associated with the sites.