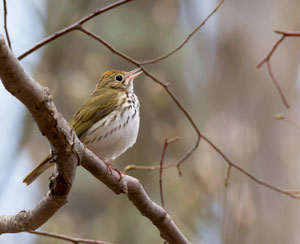 Over 200 species of resident and transient birds are known to use the park. Approximately half of these species breed in the park including eighteen species of warblers. Roughly thirty of the species are year-round residents including tufted titmice, red-tailed hawks, Carolina chickadees, wild turkeys, and barred owls.
Due to the park's location along the crest of the Blue Ridge and the extent of the forested habitat, Shenandoah provides essential habitat for neotropical migratory birds, both for nesting and as a travel corridor. Certain areas, such as Big Meadows, support species that can be found nowhere else in the park.

Shenandoah National Park includes a wide variety of essential habitat for resident and migratory birds. Help with NPSpecies...
Related Information
One useful reference specific to Shenandoah National Park for the bird enthusiast is:
Lindsay, T. and P. Lindsay. 1997. Birds of Shenandoah National Park, A Naturalist's View. Shenandoah Natural History Association, Luray, Virginia.
Websites that provide photographs and helpful biological information about birds are:
Patuxent Wildlife Research Center's Bird Identification InfoCenter


Listing of these websites does not and is not intended to imply endorsement by the National Park Service of commercial services or products associated with the site.