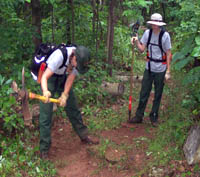 What else do I need to know about YCC?
Pay
Youth are paid the prevailing Federal or State minimum wage, whichever is higher. Enrollees are paid bi-weekly (less appropriate taxes). Enrollees will be paid the minimum wage for a 40 hour work week.
Types of Work
Applicants should be in good health. Projects involve moderate to difficult physical labor and all work is accomplished in an outdoor setting. Summers in Shenandoah can be hot with high humidity. YCC team members are involved in a variety of work projects that may include, but are not limited to trail maintenance, facilities rehabitation and maintenance, camp ground maintenance, exotic/invasive plant removal, clerical support.
How do I apply?
Please send completed application (Page 1 only) to:

Shenandoah National Park
3655 U.S. Hwy 211 East
Luray, VA 22835-4702
ATTN: Volunteer & Youth Programs Coordinator
2015 YCC Application (Application period is now closed)
Applicants will be selected on a random basis and will be notified of selection. Demographic information such as race, and family income is not used in the selection process.