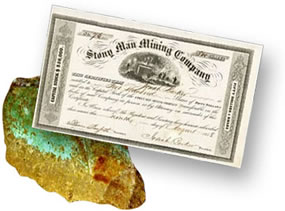 George Freeman Pollock convinced the Chancery Court to allow him to buy the Blue Ridge land on credit although he had no real occupation and little money. He was back before the judge again in 1900, 1902, and 1904, in each case gaining approval to sell off part of the assets to bring his debt current. By 1906 he was able to borrow, mortgage, and mortgage again enough to finally retire the 1889 mortgage and, theoretically, to gain title to the resort. In actuality Pollock never owned the Stony Man Camp/Skyland property. At the time of the establishment of Shenandoah National Park he had $67,107.22 in outstanding liens against a property ultimately appraised at less than $30,000. He received nothing for almost four decades of work on the resort and many of his creditors, as the copper stockholders years earlier, received nothing.
Pollock was not a businessman, but he was a promoter. Over the years he sold lots for and developed cabins on almost fifty lots and established the rustic architecture still seen at the resort. He established dining and recreation halls for which there were no alternatives and did guarantee some regular income, but most of all he planned and engineered elaborate balls, costume parties, teas, jousts and tournaments, musicales, pageants, and bonfires. Many of the cabin owners first came for the three-month season, but as automobiles became ubiquitous, shorter stays of a few weeks or just a few days became more common. With the advent of the Skyline Drive, day-tripping was the norm and the "old" Skyland became a thing of the past.
The Skyland Resort became the core of the new Shenandoah National Park after the National Park Service awarded the new concession contract to Virginia Sky-Line Company, Inc. in 1937. The Richmond-based company immediately began to build new facilities and to rehabilitate the earlier ones. Twelve historic Skyland structures remain and allow modern visitors to experience life at the turn of the 20th century.