Kids! Collect stories about the Civil War and civil rights! The National Park Service is offering more than 500 trading cards to mark the 150th anniversary of the Civil War. Visit a park in person to earn a card (sorry, cards cannot be mailed). Ask a ranger or stop by the visitor center at a participating park. You can view all the cards online and discover stories from nearly 90 national parks in 31 states and the District of Columbia. You'll be surprised at what you will learn.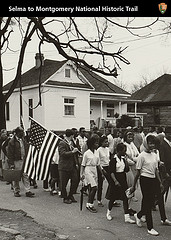 Civil Rights Marchers
Selma to Montgomery March
March 21-25, 1965

On March 21, 1965, demonstrators began marching from Selma to Montgomery for voting rights. When they reached the Alabama State Capitol Building, their numbers exceeded 25,000. Nearly five months after Dr. Martin Luther King Jr. spoke from a stage near the capitol steps, the Voting Rights Act was signed by President Lyndon B. Johnson.


.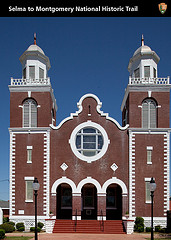 Brown Chapel, African Methodist Episcopal Church

On January 2, 1965, Dr. Martin Luther King Jr. led a mass meeting at Brown Chapel African Methodist Episcopal Church in Selma, Alabama. The church served as the headquarters to the Selma Voting Movement and was the starting point to the Selma to Montgomery Marches. It was declared a National Historic Landmark in 1997.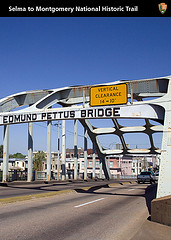 Edmund Pettus Bridge "Bloody Sunday"
On "Bloody Sunday," March 7, 1965, during a march to Montgomery, non-violent civil rights demonstrators were attacked by armed officers as they crossed this bridge. Captured on film and broadcasted across national television, the event left the nation in disbelief and increased awareness to the unfair voting practices that were taking place throughout the state.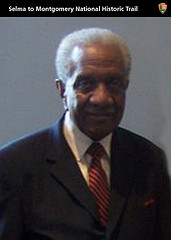 Frederick D. Reese, Selma City Teachers Association
November 28, 1929 - Present
On January 22, 1965, Frederick D. Reese led over 100 teachers to the Dallas County Courthouse with the intent to vote. After arriving at the courthouse, Reese was repeatedly assaulted as he attempted to enter. After a final attempt, the marchers led by Reese departed the courthouse and proceeded to Brown Chapel AME Church.