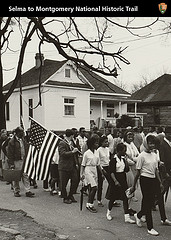 Civil Rights Marchers
Selma to Montgomery March
March 21-25, 1965

On March 21, 1965, demonstrators began marching from Selma to Montgomery for voting rights. When they reached the Alabama State Capitol Building, their numbers exceeded 25,000. Nearly five months after Dr. Martin Luther King Jr. spoke from a stage near the capitol steps, the Voting Rights Act was signed by President Lyndon B. Johnson.


.