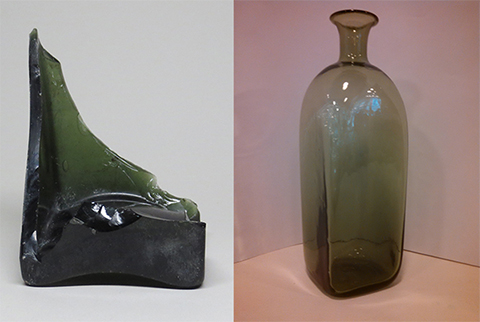 Saratoga NHP
November 2014
"Holiday cheer"
This case bottle fragment [left], excavated in 1985 at the American Headquarters / Hospital area at Saratoga Battlefield, dates from the last quarter of the 18th century. Case bottles like this have been found at multiple Revolutionary War sites.
Why the shape of the bottle? Blown into a mold, the square sides of case bottles [right] allowed more efficient placement of multiple bottles in a rectangular wooden box for storage or transportation.
Considering the time it was made and where it was excavated, the possibility certainly exists that it may have belonged to Captain Ephraim Woodworth's family, or to General Horatio Gates or his staff.
(SARA-13,024)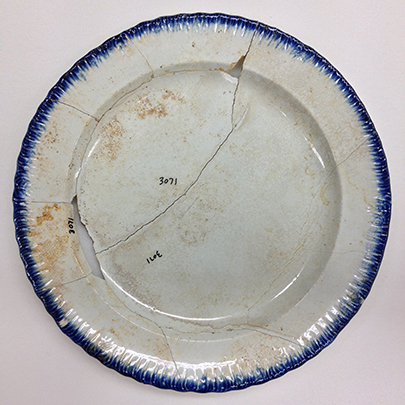 Saratoga National Historical Park
May 2014
"A pearl(ware) of great price"
This pearlware plate, more than likely owned by Philip Schuyler II (1788-1865)—the General's grandson—was excavated from the "necessary" (the outhouse,, or 'privy' in archaeology-speak) of the Schuyler House property in 1958. An inglorious location for such a popular early 19th century item, yet it offers valuable insights about its past.
Changing tastes in decorative housewares during this period inspired potters to create new and visually appealing styles of ceramics to grace the tables of our fledgling nation. This pattern of pearlware, known as "shell-edged" due to the impressed lines around the rim that were modeled after a clamshell, experienced its peak of popularity between 1813 and 1834.
Of course, as newer styles became popular, older styles might be handed on to the servants or slaves of a family, or simply disposed of in the household equivalent of a dump: the necessary.
Over many years, layers of such household debris accumulated amid now-composted waste in the necessary, creating a goldmine of archaeology. Excavating these layers reveals much about a family, their activities, their tastes, and how much "popular" they could afford.
Naturally, getting a better sense of what such items actually looked like requires "refitting," or piecing together the available fragments like a complex and delicate puzzle. The process is time consuming, and sometimes incomplete, but the re-assembled product offers a greater picture of function, form, and the family of ownership. (SARA-29272)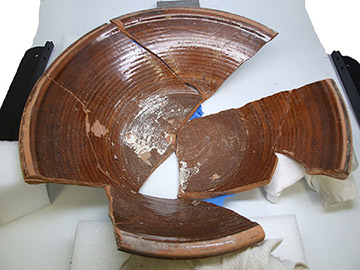 March 2014
"Women's business?"
Milk pans like this were used in the 18th century to process raw milk. Women, in charge of dairy processing, would pour fresh milk into a milk pan and place it in a cool area until the cream rose to the top. A small skimmer was used to remove the yellowish cream for making butter. The remaining milk was used for cheese making, cooking or baking.
This is one of six 18th-century redware milk pans found in archaeological work at Schuyler House in 1958. Lead glazed on the inside, it is unglazed on the outside. Examples found at other sites have been made of ceramics, and some early documentation (c.1705) in Virginia note milk pans of tinware. Surfaces that were sealed and easily cleaned were critical, so as to avoid contaminating the milk and potentially causing illness...and losing money.
Far from being dirty work, dairymaids' endeavors were marked by great cleanliness, primarily because dirt and other contaminants could spoil milk. Their work was more focused, and somewhat removed from other kitchen tasks, owing to milk's tendency of absorbing the smells of smoke and other kitchen work. Their role was also that of quality control, in what one historian at Colonial Williamsburg described as the Food and Drug Association of their day.
(SARA #30,850)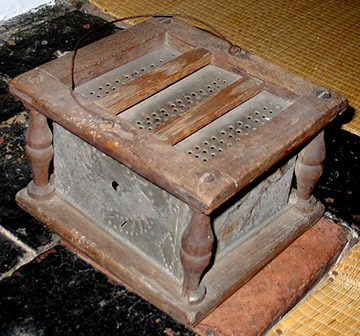 Saratoga National Historical Park
January 2014
"Don't get cold feet!"
"Keeping warm in the 18th century is easy when I can rest by the fireplace, relaxing while propped up on a log or stool. But what's a foot to do in the sleigh or carriage, at church or at a town meeting? I'm thankful for foot warmers like this! A tray of hot coals inside the pierced tin box warms the box, while the wooden frame keeps me close to the heat without burning myself on the metal (ouch!)."
When our feet are uncomfortable, we're uncomfortable. In the 18th century, keeping one's feet warm when out of the house was not always easy. Extra socks could help, but an external heat source would be a welcome amenity.
Foot warmers like this did the job. They came in many varieties, though all had the same general features: a small, tin tray held hot coals inside a tin box; the box had its top and sides pierced for ventilation and decoration; a hardwood frame with four turned corner posts surrounded the box and had an attached wire bail at the top to carry the whole package.
This particular example comes from the New York or New England area, and was manufactured between 1780 and 1820. While it is on display at Philip Schuyler House during the summer, it is not associated with the family…though you can be sure they had some of their own! [SARA-4481]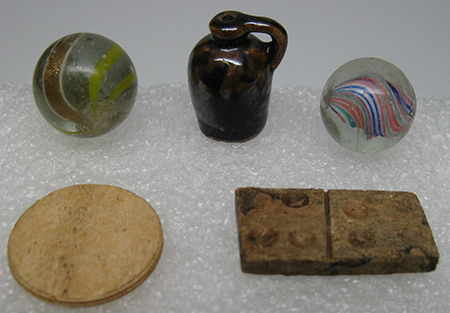 Saratoga National Historical Park
December 2013
"My favorite things"
What was your favorite toy growing up? How about now? (Yes, video games count!) Whether as a pastime and child development or as recreation for grown-ups, toys play important roles in their respective cultures. They also tell valuable stories about their cultures. Here are several 18th- and 19th-century toys that came from Saratoga National Historical Park: two handmade glass marble, a doll-sized stoneware jug, a bone game piece, and a wooden domino.
Back to front row, L to R:
This hand-made glass marble is known as a "banded lutz" for the use of copper or goldstone in the distinctive metallic band swirled inside the clear glass. It likely dates from the mid to late 19th century, and was found during an archeological investigation of the Neilson House. (SARA 2545)
Found in the 1980s in the garden at the Schuyler House, this Rockingham-type miniature jug made of glazed ceramic was "doll-sized". It dates from the mid-19th century. (SARA 28,671)
This candy-striped solid core swirl marble with four latticino threads was probably made in the mid-19th century. It was found during an archeological investigation at the Schuyler House in 1958. (SARA 29,941)
Bone game piece found at the Schuyler House during an archeological investigation in 1958, this simple game piece might have been used for backgammon or other board game. It was made between the late 18th to early 19th centuries. (SARA 29,958)
Wood domino from a set. This domino appears to have four dots (known as "pips") and six dots (pips). It could date from the late 18th up to the mid-19th century. It was found during an archeological investigation at the Schuyler House in 1958. (SARA 2933)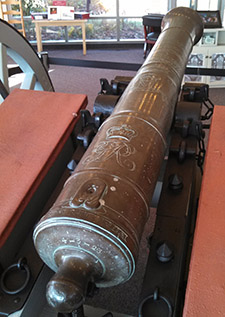 Courtesy: Center of Military History, U.S. Army
November 2013
Welcome home!
Three were known to exist. Two had known locations, Ohio and Illinois. One disappeared 50+ years ago. Then, in 2008, the Hayes Library (Ohio) loaned Saratoga NHP their original Battle of Saratoga 6-pound British cannon for display. One day, Park Ranger Joe Craig overheard a visitor comment, "We've seen one just like this…in Alabama!" That started Park Curator Chris Valosin on a 4-year trail establishing critical connections and partnerships leading to the last 6-pound cannon returning to Saratoga, loaned by its owner, the Department of the Army. It was unveiled November 15, 2013.
Surrendered to Americans at the 1777 Battles of Saratoga, this cannon is one of only three known surviving 6-pounders from British General Burgoyne's artillery train. It is believed to have been used by the United States Army during the remainder of the American Revolution and possibly in the War of 1812. By the early 20th century the cannon was displayed in Brooklyn's Prospect Park, site of the 1776 Battle of Long Island. Although efforts were made to return the cannon to Saratoga, eventually it fell into private hands. Purchased in the 1970s by what is now known as the Westervelt Company, it was exhibited in Alabama's Tuscaloosa Museum of Art. In a recent partnered-agreement between the Tuscaloosa Museum of Art, Westervelt Company and the U.S. Army, the cannon was returned to the U.S. Army with their approval to place it on long-term display at Saratoga National Historical Park. [SARA #28,731; Courtesy: Center of Military History, U.S. Army]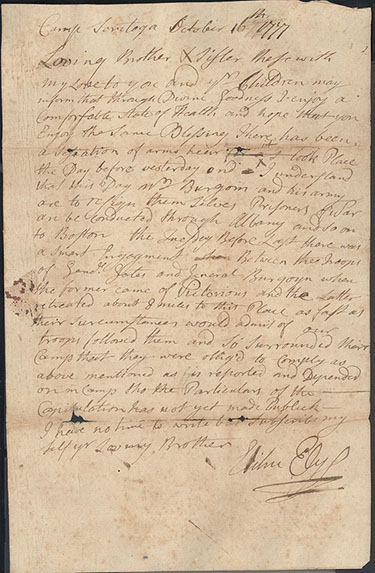 Saratoga National Historical Park
September
"Witness"
Elihu Ely was an American officer serving with Colonel Jonathan Latimer's Regiment of Connecticut Militia. In this letter, he wrote home to relay news of the momentous American success in the Battles of Saratoga. While the American victory was sure, note his letter is dated just before October 17. What might his thoughts have been the very next day after witnessing the British laying down their arms?
(SARA-648)
Transcript of Elihu Ely letter (PDF document)
Larger view of Elihu Ely letter (PDF document)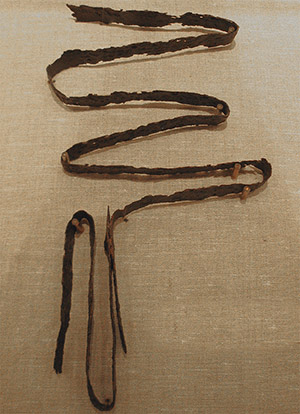 August 2013
"Recycled barbecue"
You're a Revolutionary War soldier or camp follower. About half your daily rations often consist of gristly, fatty, bone-chip laden beef or pork preserved with such heavy salting as to require soaking it in water, then throwing out the water, just to make the meat edible. You stretch your rations by boiling the meat, with pieces of rock-hard ship's bread and a few occasional vegetables, to make soup or thin stew...nearly every day. Here at Saratoga, such monotony drove some British soldiers to bend a barrel hoop into this small grill to broil some of their meat. [SARA-1777]
This particular broiler was located during an archaeological dig just west of General Burgoyne's headquarters, in an area occupied by the 21st Royal North British Fusilier Regiment. Such examples of soldiers recycling or repurposing implements for cooking gear are not uncommon. Smaller grills of similar design have been found in American camps elsewhere. An example also exists of a shovel with edges bent up to form a cooking pan.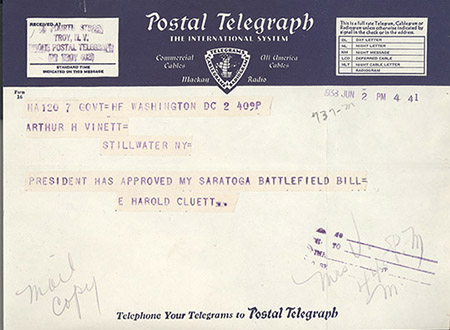 Saratoga National Historical Park
June 2013
"Happy Birthday"
June 1, 1938: President Franklin D. Roosevelt signed legislation establishing Saratoga National Historical Park. A New York State historic site for 11 years (1927-1938), "The Battlefield" moved into the Big Leagues! But compared to the 1927 Pageant noting the Battlefield's opening, this momentous occasion received little fanfare. Even this telegram marking the event is sparse…an early 20th-century Tweet?
Who were these two men named in the telegram? The sender, Ernest Harold Cluett was a US Congressman from Troy, NY working with FDR on establishing Saratoga National Historical Park. Arthur H. Vinett was a Stillwater, NY attorney and Rotary member who had worked with Troy mayor and fellow Rotarian George Slingerland to establish Saratoga Battlefield as a New York State historic site.
Slingerland served as Saratoga Battlefield's first superintendent (1927). Dying on October 8, 1932 of a heart attack, he sadly never lived to see FDR's pen elevate the Battlefield to National Park status. (SARA-684)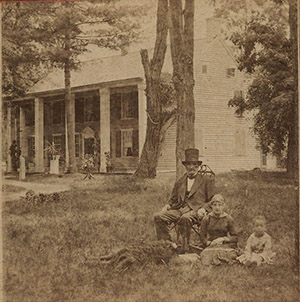 Saratoga National Historical Park
May 2013
"Schuyler House: generations"
Many years ago, a noteworthy part of Saratoga NHP…wasn't. It was someone's home! General Philip Schuyler's house was the George Strover home. Strover, age 87 in this 1878 photo with grandchildren Jessie and George Lowber (and the family dog), had owned the place for some 50 years. Two generations of the family knew this house. In 1950, the house and 26 acres of land became part of Saratoga NHP. How might you feel knowing the house you grew up in was historically important enough to become part of a National Park?
The photographer, Charles H. Pease, hailed from Maine, and had his own interest in history. As a member of the 17th NY Volunteer Infantry during the Civil War, he developed a sense of connectedness with and empathy for the American Revolution. He eventually moved to Schuylerville, living there for about 20 years. There, he expressed his respect for the Revolution through photography, and published a number of stereoview photos of historic sites and structures, including Philip Schuyler's house.
(SARA-28,687)

Saratoga National Historical Park
April 2013
Prescribed fire...old school!
Park visitors in the early spring will see fields burned with curious precision. It's no accident, it's prescribed fire-using fire to keep fields open, clear them of accumulated fuels, return nutrients to the soil, and reduce invasive plant species.
The current program has great foundations, as the Civilian Conservation Corps (CCC) program pioneered the use of prescribed fire. Camp NP-2, working at Saratoga Battlefield from 1939-42, helped in this work.
The park's curatorial collections contain some of their tools, including this axe-like pulaski and this mattock. (SARA #4079 and #4091)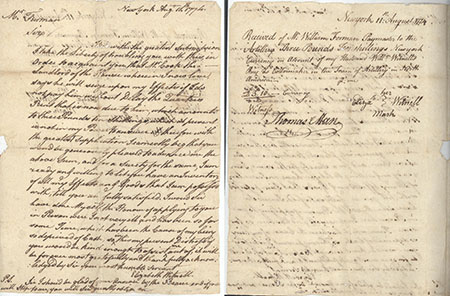 Saratoga National Historical Park
March 2013
"In this my present Distress"
Elizabeth Witnell was the wife of William Witnell, an artificer (professional tradesman) with the British Train of Artillery in pre-revolutionary America. William, in Boston in the summer of 1774, was a "collarmaker" - making and repairing harnesses and collars for horse teams pulling the artillery. Elizabeth, apparently left behind in New York because of a lingering illness, could not pay her quarterly rent and faced eviction. Illiterate, Elizabeth had a letter written for her, asking the unit's paymaster, William Forman, for an advance on her husband's pay. Her August 10, 1774 letter was answered the following day, with the money she needed.
Nothing more is known of the Witnells, a military family on the eve of the American Revolution.
PDF transcript available (31 kb)
(SARA-17786)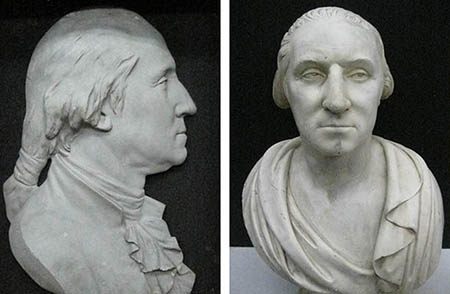 Saratoga National Historical Park
February 2013
Washington at Saratoga?
Yes! In 1932 at the 200th anniversary commemoration of George Washington's birth, called the "Washington Bicentennial," two sculptures of our first president were donated to the Saratoga Battlefield's museum collections. The first was a zinc alloy bas relief cast by sculptor Charles Calverley (1833-1914), who used Houdon's life mask of Washington to guide his work. The other is a plaster bust by an unknown artist, inscribed "1732-1932, George Washington Bicentennial Commission." In 1932, Saratoga Battlefield hosted an event commemorating Washington's birth. In addition to the donation of these sculptures, an elm tree was planted in Washington's honor. The tree has not survived.
(bas relief: Collections #SARA-116; plaster bust: Collections #SARA-4050)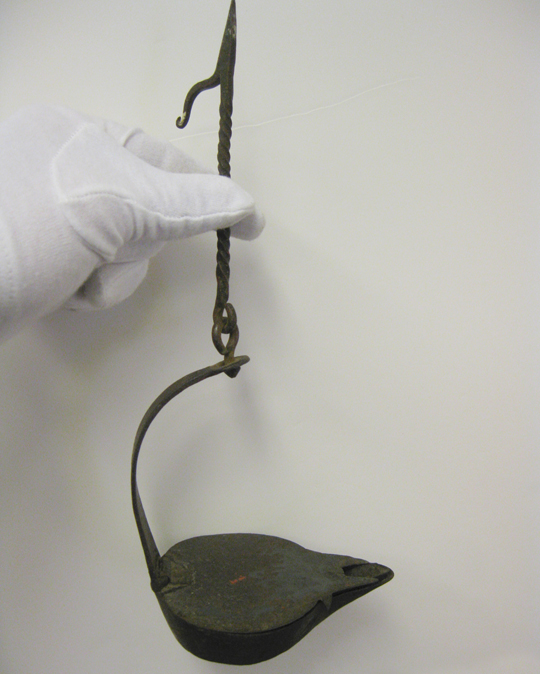 Saratoga National Historical Park
January 2013
"You can call me Betty..."
Since ancient times, people have used simple grease lamps to bring light into the darkness. A palm-sized, shallow dish held a small amount of grease or oil. A twisted fibrous wick rested with one end in this fuel as the other end rested in a corner or point of the dish. The exposed end was lit, creating a small, dripping, smelly, smoky flame. Betty lamps improved on the lamp design. A hinged lid partly covered the fuel. A small, internal lip within the dish held the wick up and away from the dish edge, so dripping fuel would drip back into the tray, instead of on the floor.
While the earliest grease lamps were generally made of dried or fired clay, by the 1700s they were made of thin sheet metal (usually iron or tinplate). A small, pointed metal hook attached to a curved, metal strip on top enabled hands-free lighting, allowing the user to either push the point into a wall or wall beam, or simply hang the betty lamp from something like a window frame or a nail.
This example was donated to Saratoga National Historical Park in November of 1943, and was given by a local resident, Daniel Wilbur. His farm was established along the northeastern side of the battlefield, roughly around the end of the war. (Catalog #SARA-154)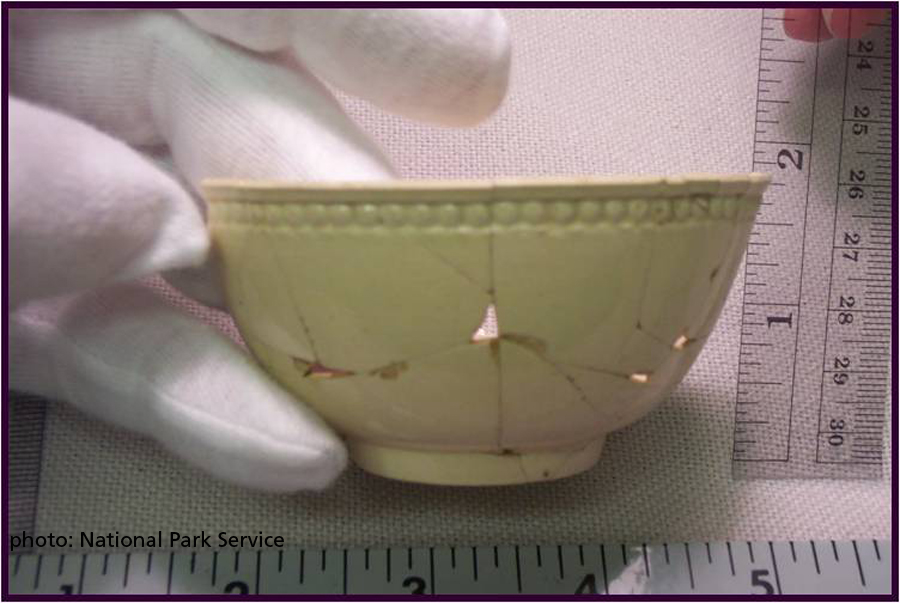 Saratoga National Historical Park
December 2012
"Tea, anyone?"
Creamware was lead-glazed, cream-colored earthenware made in England. Widely exported after 1760, it's distinguished by a thin body and fine forms. Reconstructed from sherds excavated at a site on "the Summit" in the American entrenchments, this handleless tea cup with an impressed, beaded border near its rim may have been used by an American officer. Identical creamware tea cups and other tea wares have been found in military contexts of the 1770s at Fort Moultrie in South Carolina and Fort Michilimackinac in Michigan. (SARA-931)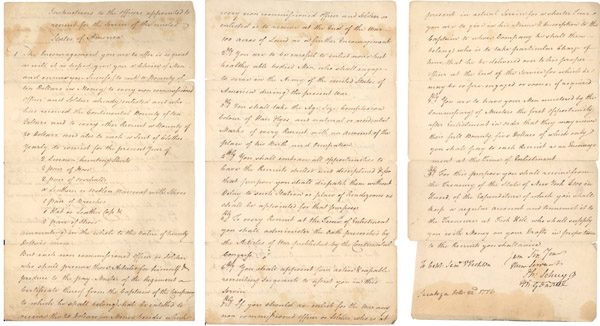 Saratoga National Historical Park
November 2012
"Back Home"
Handwritten in October 1776 by General Philip Schuyler at his Saratoga (Schuylerville) estate, this 3-page letter, addressed to Captain Samuel Van Vechten of the 4th New York Regiment, provides instructions regarding recruitment of American soldiers.
One year later, on October 17, 1777, Schuyler would be standing on his Saratoga property, nearly all the buildings burned down by British forces.
One month after that, by the end of November 1777, Schuyler rebuilt his country house, where it still stands today as part of Saratoga National Historical Park.
Now, 235 years later, Schuyler's letter to Van Vechten has returned home, very recently purchased by Saratoga NHP for the park's museum collection.
(SARA-28,066)
PDF copy of transcript (60.3 kb)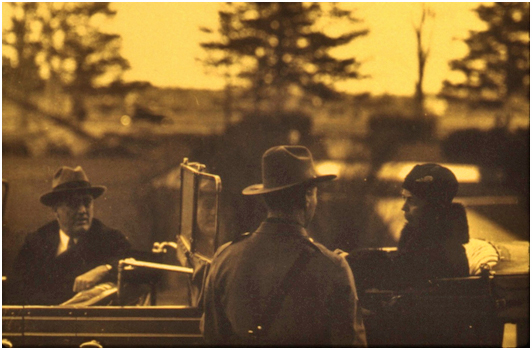 Saratoga National Historical Park
October 2012
"Reflecting on History"
Franklin D. Roosevelt had a personal interest in the history and preservation of Saratoga Battlefield. This scene was captured October 7, 1940, when he came to inspect possible sites for a visitor center. Here, a State Trooper speaks with Eleanor as FDR looks on, his intent expression reflected in the windshield. (SARA-22,073)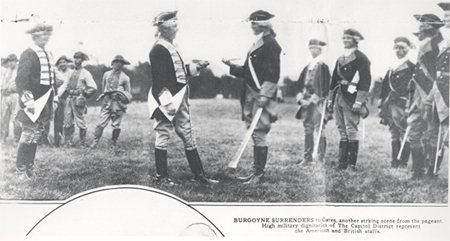 Saratoga National Historical Park
September 2012
"Preserving their history"
We have seen the Olympics put on shows that trace the history of nations, but long before these performances a similar pageant took place at Saratoga Battlefield. In October 1927--85 years ago--in a large, involved pageant performed here, the proud people of Saratoga celebrated the rich history of this area, spanning from the Ice Age to Gen. Burgoyne's surrender after the Battle of Saratoga. They spent a great deal of time and effort making this event exciting and memorable, and they certainly succeeded.
(photo recommendation and text by Karoline Schwenker, seasonal museum tech) (SARA-22,340)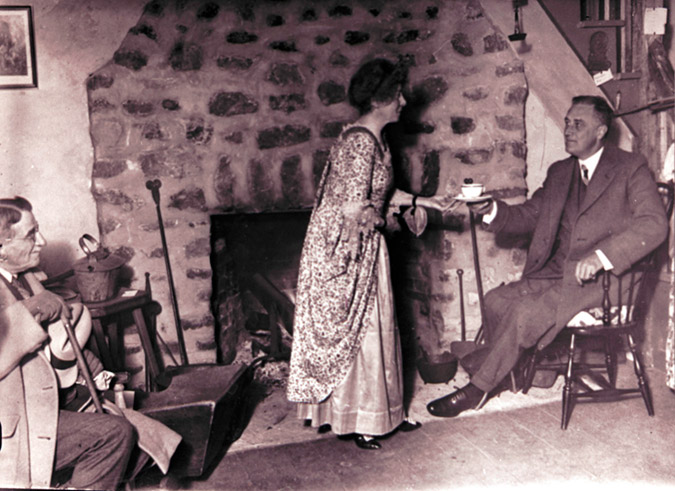 Saratoga National Historical Park
August 2012
"Tea anyone?"
New York State established Saratoga Battlefield as a historical site in 1927, and created a few buildings, including a "Period House". In 1929, Governor Franklin D. Roosevelt visited the park, and here is shown having tea, served by a "Colonial Dame".
(Photo suggested and text written by Karoline Schwenker, seasonal museum tech) (SARA-22,346)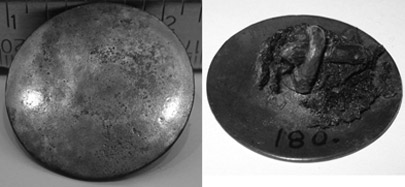 Saratoga National Historical Park
July 2012
"Curiosity"
It had seemed a mere novelty: a simple American soldier's brass coat button held onto a sliver of cloth by a thin twig, as the archeologist reported. But park exhibit research revealed more: an archeological excavation that uncovered the button had found it amid remains of a soldier, mortally wounded by a piece of grapeshot, also uncovered with the remains. Novelty melted into solemnity. (SARA-887)