Things To Do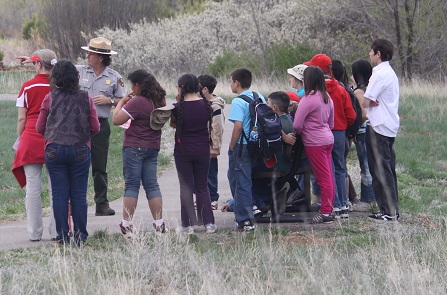 Activities
Tours
Onsite Activities
Junior Ranger Program
Senior Ranger Program
Picnicking
Birdwatching
Hiking
Abó
• Enjoy a walk through The 17th Century Mission of San Gregoiro de Abó.
• Take photographs of the Spanish Resettlement Structures.
• Listen to the sounds of nature near the arroyos where animals gather to drink out of small pools of water.
• Call in advance and schedule a petroglyph tour.
• Pack a lunch and picnic in our covered picnic area.
Quarai
• Take a leisurely stroll through Nuestra Señora de La Purisima Conception de Cuarac
• Learn about the functions of the convento and view it's square kiva.
• Enjoy some spectacular bird watching
• Spend time enjoying nature by hiking the one mile Spanish Corral Trail
• Have a picnic or just relax underneath the cottonwood trees in our picnic area

Gran Quivira
• Take a walk through history and see an excavated Pueblo Mound and two Mission Churches
• Visit the museum and see the different tools and artifacts made by the people of Las Humanas
• Catch a glimpse of the wildlife that inhabits the area
• Check out the spectacular view that spans for miles
• Learn about the desert plants that thrive in this harsh environment


Did You Know?

Unlike the residents of Gran Quivira and Abó, who mainly spoke Tompiro, the residents of Quaraí spoke Tiwa.