Walking Tours
Mondays to Fridays at 10:30 a.m. and 2:30 p.m., visitors are invited to join a member of our staff for a memorable walking tour of this National Historic Site. The tour encompasses an orientation program, museum exhibitions, the 18th-century stone and brick church that served as a Revolutionary War hospital, and one of the nation's oldest cemeteries.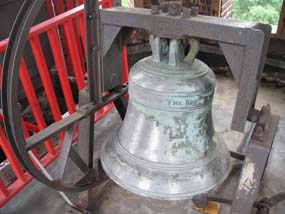 National Park Service
Church Tower Walks
During the Spring and Summer the National Park Service offers (weather permitting) tours of the historic church tower every other Friday at 3 p.m.
Visitors climb up the wooden staircase in the tower, leading to the church's 250-year-old metal bell, one of the oldest in the United States.
In 1758, the Church of England minister at St. Paul's decided to leave a gift to his parish as he prepared to retire. Reverend Standard, a wealthy man, ordered a bell for the church from London's Whitechapel Foundry (which also cast the "Liberty Bell.")
When the American Revolution reached New York in 1776, General George Washington ordered the removal of bells from New York City's churches to be melted down and cast into cannon. However, the parishioners at St. Paul's hid their bell in order to save it. During the war, Hessian troops tore down the wooden church for firewood.
When the war ended in 1783, the bell was returned and hung in the present stone church. Thereafter, it was rung for services and for the celebration of American Independence on July 4.
The Tower Walks allow visitors a singular opportunity to come face to face with the bell's historic connections to the colonial celebration of the King's Birthday, the destruction of the Revolutionary War, and the celebration of the independence of the new nation.