Park News
From April 1 to November 30, the park is open every day from 9am to 4 pm.

From December 1 to March 31, the park will be open weekdays from 9:00 am to 4:00 pm. Staff may open the park on weekends by appointment; please allow one week advance notice. Call 719-729-3003 ext. 0 on any weekday from 9-4 to make an appointment. Please note that weekend availability is not guaranteed due to staffing limitations.



---
150th Anniversary News Releases and Tour Information:
The Letter and the Leaders - October 2014
Lone Bear's Family and the Sand Creek Massacre - September 2014
"From the Warpath to the White Man's Road" - Stacy Riggs Program - October 25, 2014
The August Proclamation and the Third Colorado Cavalry - August 2014
Evans' "Proclamation to the Friendly Indians" - July 2014
Hungate Family Murdered - June 2014
Murder of Chief Lean Bear Results in Revenge - May 2014
Colorado in the Civil War - April 2014
The Gold Rush and the Plains of Colorado -March 2014
A Tale of Two Treaties - February 2014
The Southern Cheyenne Odyssey - January 2014

Previous News:
Walking Tour of the Sand Creek Massacre - September 13, 2014
August 1864: Colorado Territory - Walking Tour - August 9, 2014
"And Still He Stayed!" - Black Kettle Presentation - July 19, 2014
July 4 Programs - Walking Tour and Presentation
Third Cavalry Regiment, Colorado (U.S.) Volunteers - June 28, 2014 Walking Tour
Cheyenne and Arapaho Footsteps - May 17, 2014 Walking Tour
Night Tour of Sand Creek Massacre - April 19, 2014
Tour of Bent's New Fort - March 15, 2014
Tour of Sand Creek Massacre - January 25, 2014
News Releases Memorialize 150th Anniversary of Sand Creek Massacre
Sand Creek Massacre NHS Reopens to Public
---
Informational Bulletins and Briefs:

Did You Know?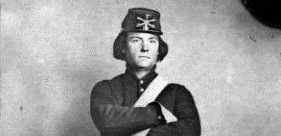 There were about 675 Colorado troops at Sand Creek. Private Joseph Aldrich of Company F of the 1st Regiment, pictured below, was one of 18 to die. The first soldier to fall at Sand Creek was likely Private George Pierce, Company F, 1st Colorado Regiment. More...