Partial Park Closure Due to Hazardous Conditions

Rancho Sierra Vista/Satwiwa re-opens 5/14/13, with restrictions (sunrise to sunset, not all trails). Sandstone Peak & Mishe Mokwa trails will also open, as will Backbone Trail east of Point Mugu State Park boundary. Point Mugu backcountry remains closed. More »
Trucks on Cheeseboro Canyon Trail

Occasional truck traffic (approx 6 trips per day) will take place on Cheeseboro Cyn Trail weekdays between 8am & 4pm for demolition and removal of Cheeseboro Tank. Should be completed by 5/24/13. Check back for updates or call 818-889-8996. More »
Map and Site Information: Rancho Sierra Vista/ Satwiwa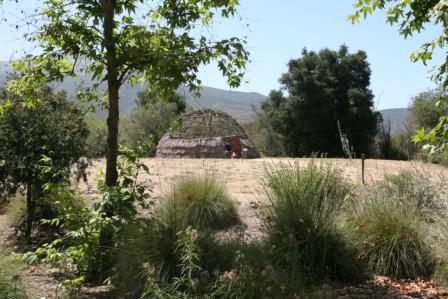 Welcome to the western edge of Santa Monica Mountains National Recreation Area. This site was home to the Chumash, Spanish Rancho El Conejo, and modern ranching and farming operations. Stroll through serene hills, view Boney Mountain or experience Native American traditions at the Satwiwa Native American Indian Culture Center.
Satwiwa
For many years, the Santa Monica Mountains sustained the Chumash and Tongva/Gabrielino cultures. Sycamore Canyon, which cuts through Rancho Sierra Vista/Satwiwa and Point Mugu State Park, was part of a Chumash trade route. Satwiwa, which means "the bluffs," was the name of a nearby Chumash village.
Click here to visit the Satwiwa Native American Indian Culture Center page.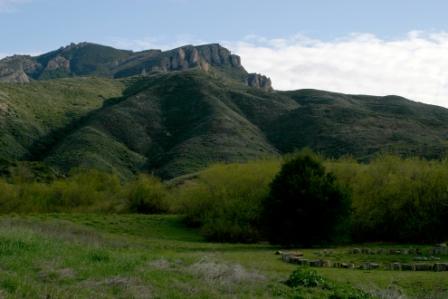 Rancho Sierra Vista
Local ranching history began in 1803 when former soldiers Jose Polanco and Ignacio Rodriquez were granted Rancho El Conejo by the King of Spain. Through the years, this 48,672 acre land grant was subdivided and sold to various landowners. Modern ranching began here in 1937 when Carl Beal christened the area Rancho Sierra Vista. Carl Beal constructed most of the current ranch buildings and his house and barbecue pit in Sycamore Canyon. The last private landowner of this property was Richard Danielson. For 32 years, he and his family farmed and ranched here. The National Park Service purchased the property in 1980. The western boundary of present day Rancho Sierra Vista/Satwiwa reflects the original land grant of the Rancho El Conejo.
Trail Map and Current Weather
Rancho Sierra Vista / Satwiwa Trail Map (PDF-164K)
Current Weather
Directions
Main entrance - cross street is Via Goleta and Potrero Road, Newbury Park, CA, 91320
Take the Ventura Freeway (U.S. 101) to Lynn Road exit. South on Lynn Road. 5.25 miles to Via Goleta. Park Entrance on the left.
GPS Coordinates for Entrance (Via Goleta & Lynn Road): N 34.1569 W -118.9733
GPS Coordinates for Satwiwa Native American Indian Culture Center: N 34.1504 W -118.9613


Did You Know?

At the geographical center of Los Angeles is a national park site. At Franklin Canyon Ranch in Santa Monica Mountains National Recreation Area, you can see cityscapes and natural views. The recreation area extendes in an east-west direction running through the heart of the city.