Satwiwa Native American Indian Culture Center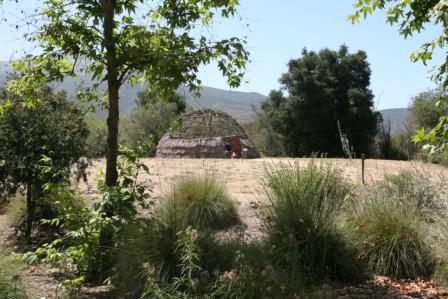 For many years, the Santa Monica Mountains sustained the Chumash and Tongva/Gabrielino cultures. Sycamore Canyon, which cuts through Rancho Sierra Vista/Satwiwa and Point Mugu State Park, was part of a Chumash trade route. Satwiwa, which means "the bluffs," was the name of a nearby Chumash village. To reflect this heritage, Satwiwa Native American Indian Culture Center and Natural Area was established by the National Park Service in partnership with the Friends of Satwiwa.
A Native American guest host or a park ranger is on hand to answer questions from 9am to 5pm on Saturdays and Sundays. Native American workshops, programs and art shows occur throughout the year. Call for information on accessibility parking.
Trail Map and Current Weather
Trail Map and Site Information (PDF-164K)
Directions
Located at Rancho Sierra Vista / Satwiwa in Newbury Park, California.
From Ventura Freeway (U.S. 101) exit Lynn Road. Turn south on Lynn Road for 5.25 miles to Via Goleta. Park Entrance is on the left. Walk 0.3 mile up gravel road from the last parking area to the Culture Center.
Note: The driveway off Potrero Rd is a service road and access to handicap parking only.
GPS Coordinates for Entrance (Via Goleta & Lynn Road): N 34.1569 W -118.9733
GPS Coordinates for Satwiwa Native American Indian Culture Center: N 34.1504 W -118.9613
Did You Know?

A study that began in 2002 reveals a lion and his offspring are surviving in the Santa Monica Mountains. Radio collars track them crossing roads and navigating through open spaces. Their future is uncertain, but with conservation efforts, they may continue to make these mountains their home.