Hike #3 -Patience is a Virtue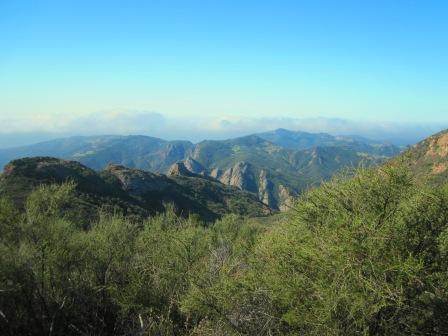 The Santa Monica Mountains have either been a part of films or in films for almost as long as film making has existed. However I often think of a specific television show when thinking about the intricacy of the Santa Monica Mountains. You might wonder to yourself, "Okay, where's Ranger Mike going with this? I thought this was about the Backbone Trail and not television / film."
At one point I was seeing a girl who enjoyed watching a show called Match Game. For those of you who have never heard of it, it was a game show where the contestant had to match their answer with a celebrity's. In a nutshell, the contestant had to fill in the blank and those blanks had to match. While she was enthralled with the host, Richard Dawson, I was more amazed how anyone could ever get a "match" when that blank could be anything, literally.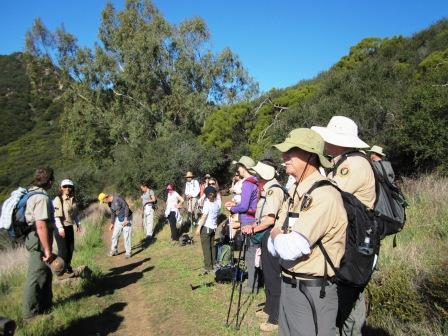 If we were hosting the show today, the question might be, "Did you know there are many landowners in the mountains? The Backbone Trail is ______."
That blank could be anything. Soft, rugged, pretty, ugly, loud, quiet, etc. Any handful of a dozen different words. Again, how could anyone ever get a match?
But what about the word "complex"? May not be the first word to come to mind.
And hot diggity, the Santa Monica Mountains are complex. A patchwork of federal, state, county, city, and local agency parklands intermingled with private land. For example, the entire city of Malibu is contained within the boundary of Santa Monica Mountains National Recreation Area. There are at least 20 different land owner-types and numerous stakeholder groups that call these mountains home. We are considered by many to be one of, if not the, most complex park in the entire National Park System!
The Backbone Trail connects people across multiple agencies as a way of experiencing the park. Something we talked about in the Introduction to the BBT Hike blog post. However, the trail system is not yet complete. There are still two sections that are needed before the trail will be one contiguous path. (You can read the news release on the acquisition of the 2nd to last section by clicking here.)
Where we hiked was in my opinion the most complex section of the trail to many visitors. This is why patience is a virtue.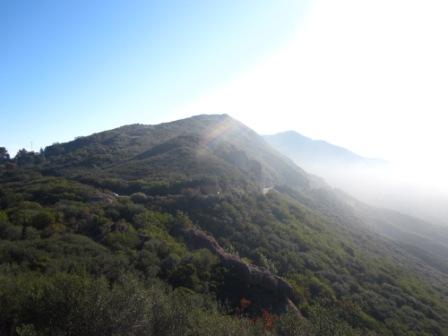 We began early in the morning, as we usually do, and again it was foggy but this time clearing. The landscape surreal as morning clouds left us and exposed the jagged hills that we would soon be hiking along at Circle X Ranch. Starting from the Backbone Trail trailhead located on Yerba Buena Road - mile marker 9.10 we hike 4.5 miles to the Mishe Mokwa Trailhead, the same place we ended two weeks ago. It's important to point out that this section of trail is much newer than any of the trails we've hiked so far.
Along this section we saw mountain bikers, runners, fellow hikers, and it would have been no surprise to see a few equestrians. This section wasn't even here a few years ago! First off, we had to build it. After acquiring the land, we had to plan the trail, layout the trail, ensure it was designed and built correctly, and all of that required patience. Good news is, because the trail is so new, it is built and engineered to modern trail standards that allow multiple users. The grade is easier and wide to allow visitors to pass and yield safely to one another. Great things come to those that wait.
After hiking this section and heading east, things seem to get complex for those recreating on the Backbone Trail.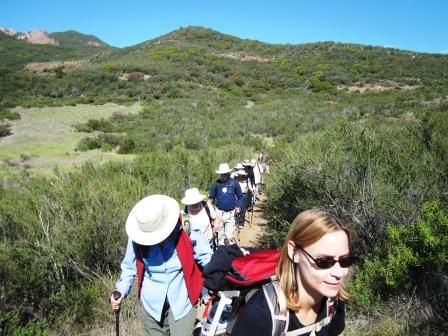 PAUSE: Let me digress from what we actually did on the hike for a few seconds. As I want to change that blank from "complex" to "less complex".
Looking at a map, it appears that one could hike continuously from Mishe Mokwa Trailhead all the way to Encincal Canyon Road Trailhead where we ended. You can't. See, there is a section of land in between those two end points that is not part of a public trail. As my father says, "you can't get there from here."
We want to be good neighbors with our local residents and while it may appear that hiking along a "small" section of land to save distance and time is okay, it's just not cool. In fact, it hampers efforts in working with neighbors and residents as we strive to share the mountains with everyone.
"So Ranger Mike, how do you hike the section that is open?" Excellent question, let's talk about it!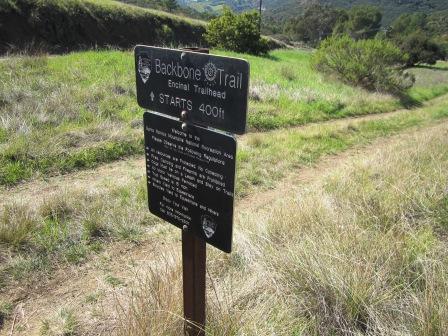 We drove from Mishe Mokwa Trailhead to the parking area for the Backbone Trail on Encinal Canyon Road. This was about the time of day we were all hungry and according to our watches the big hand was at 12 and the little hand was at 12 as well. In my book that means lunch time.
Finishing our lunch, we hiked a section of trail known as the Backbone Trail between Encinal Canyon Road and Mulholland Highway - maybe the name needs a little work, but if you're asking about it, that's what it is known as. This 1.1 mile section is a little steep in the beginning but as you approach Mulholland Highway, the trail levels out. You go through chaparral covered slopes and this is an excellent spot to study the various colors of lichens found in the mountains.
At the end of the 1.1 miles we reach Mulholland Highway. The trail crosses this busy road so as the adults in our lives generally taught us when we were younger; it's advised you look both ways before you cross. You can even answer that question you might ask yourself about why the hikers crossed the road. To get to the other side, of course!
From here it is an approximat 4.1 mile round-trip hike from Mulholland Highway to where the trail ends on the Etz Meloy Motorway - a road that looks like the would be trail seen on a map. Here is another place where patience is a virtue. I know, it's hard not to continue along it but we have to hold back. So when hiking this section, you have to treat this as a there and back hike. Disappointing to some, frustrating to others, and highly bureaucratic to the rest; we have to remember that it's our patience which ensure continued use for others in the future.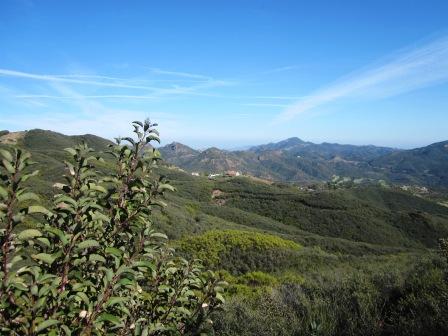 Naturally, some would think that this section is not worth it because of the extra distance but the views up here are spectacular and being immersed in the dense and hardy chaparral make it all worth it. Here you can feel that you are away from it all. Plus, if you're going to hike the Backbone Trail, you might as well hike every bit of it.
Returning to our cars after hiking 10.8 miles that day, we take the time to reflect upon the corridor traversed on our journey so far. Realizing that hiking a "there and back" might not be ideal and as we further enhance our understanding this park and learn it's complexities, it seems patience really is a virtue.
I ask you then, if you were a contest on the show, how would you answer the prompt presented by our host? "The Backbone Trail is ______."
While it could be anything to you, hopefully the answer is no longer "blank".
----------------------------------------------------------------------------
Completed milage so far is: 27