Hike #7 - My Last BBT Trek
This hike was amazingly difficult to find the trail head due to the heavy mist that morning. A few jokes were thrown around on how this area reminded us of a tropical place. As we started the hike, in the nice cool morning, our lead ranger decided to show us an area with signs of fossils. This was a great way to get our groups attention with their morning sleepiness. The trail was filled with mined out fossils. Not much is left behind, but at least our group was able to see the imprint of the patterns placed on the rock.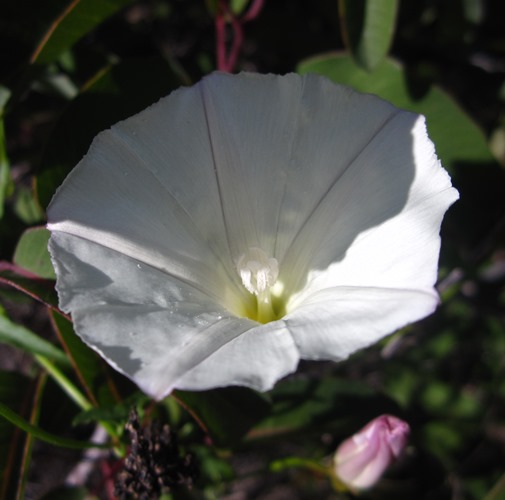 And of course, I kept my eyes open for new flowers to see and learn about. In the mid-morning dew, we came upon some South Coast false bindweed, part of the morning glory family. I was convinced it was a morning glory until a coworker pointed out that the sepals, small leaves under the flower, is different depending on the species and makes it easier to identify exactly what it is. We have several different species within our mountains range and some are known as bindweed. Nonetheless, it's still a pretty flower.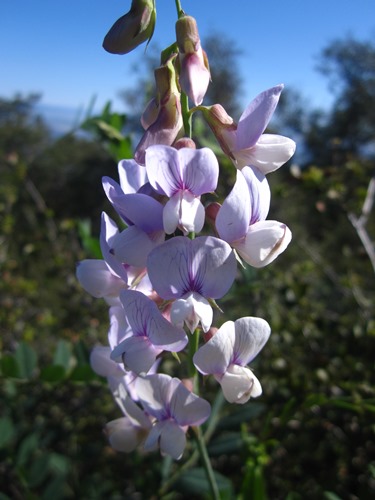 Another flower to add to my list is the Wild Sweet Pea. This is very common to find in our mountains. It can be found in the following communities: Coastal Sage Scrub, Chaparral, Southern Oak Woodlands and along streambeds. Which is pretty much everywhere within our mountains. What caught my eye, were the clusters of whitish pink flowers. I am personally not a big fan for the color pink, but the white mixing with it gave it a pretty appearance of purple hues and light lines of magenta. This is probably one of my favorite photos as well.
Unfortunately this was MY last Backbone Trial hike. I wasn't able to participate in the last hike due to a mandatory participation in a school event. Also I feel I should let my audience know that the main reasons my last three blogs have been postponed were due to life situations, (my graduation and vacations). I am happy though, to have met so many wonderful people through this program. We had a pretty enthused group. They were nice enough to pose in a picture with me, haha. I actually have this picture up on my desk. This memory will never fade and it reminds me why I love my job, my park, and our mission with the NPS.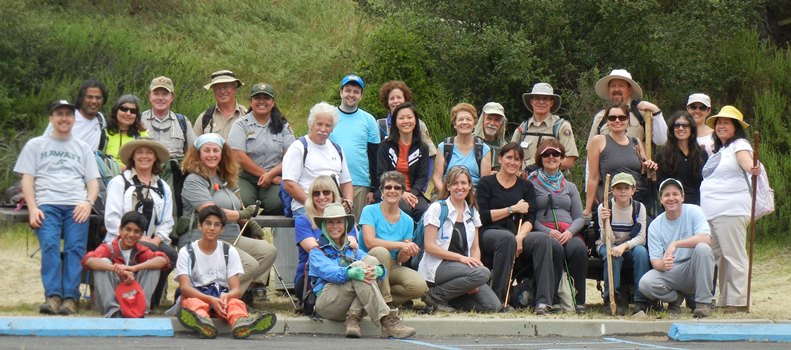 Please check out the last blog. Just because I couldn't finish the last hike doesn't mean there isn't a last blog. – Ranger Razsa
(Click
here
to return to the 2013 Backbone Trail Blog homepage.)