Apologies for the late delay on uploading the last blogs……. Our mountains and our schedules suffered from the Springs Fire and unfortunately delayed my work along with other life events. Now I am back to work and on my normal schedule. With that said……. I hope you enjoy the next blogs!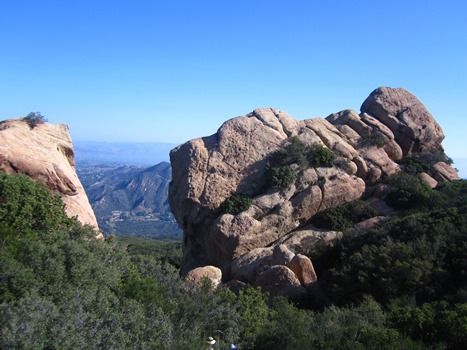 It just keeps getting better. Hike #6 took our group along our common plant communities of chaparral and oak woodland. In 1993, this area experienced a fire that completely burned the area. As you can see in the following photos, this area has flourished back through natural recovery and the geological outcrops are breathtaking. I've been told that this area is usually the highest in numbers for native blooms. So next spring, be sure to trek out this way and keep track of how many different species you find.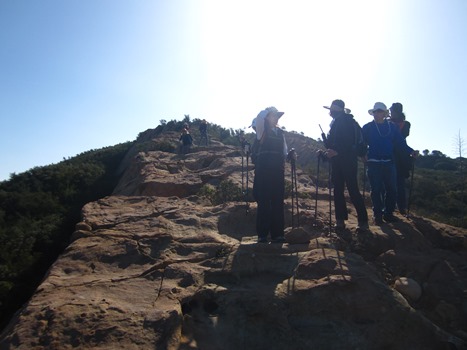 Saddle Peak is also known for its popular geological features and its 360 degree view of its surroundings. On a clear day you can see into the LA Basin and the islands nearby. This peak stands at 2805 feet up. It is only 0.8 miles to get to the spur of the saddle from the trailhead. As you can see our group had a remarkable view of the area.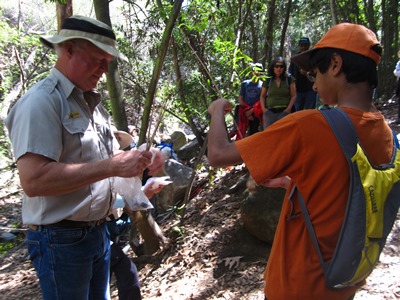 Along the hike, our interpreters did a great job in not only identifying what was in bloom, like always, but also the cultural history behind these trails. This area has many documented Native American sites and homesteading history. Our interpreters touched upon how animals and humans used the land. One item in particular was the Yucca whipplei. As seen in the photo aside, he showed how the dried leaves of the bottom base of the Yucca were used in producing cordage by the Chumash. He demonstrated how easily the leaves came apart as he pulled a few long strands. He also demonstrated how the green sturdy leaf ended as a sharp needle and mentioned that the end of the leaf was actually used as a needle for various purposes.
I am still amazed of what our local mountains have to offer. With each hike I discovered something new, and end it feeling more thankful that we have protected these mountains for all of us to share. So be sure to take advantage of the trails and experience your park……..these mountains are here for you. Until next time!
(Click
here
to return to the 2013 Backbone Trail Blog homepage.)