Hike #5 - Backbone Trail Rocks!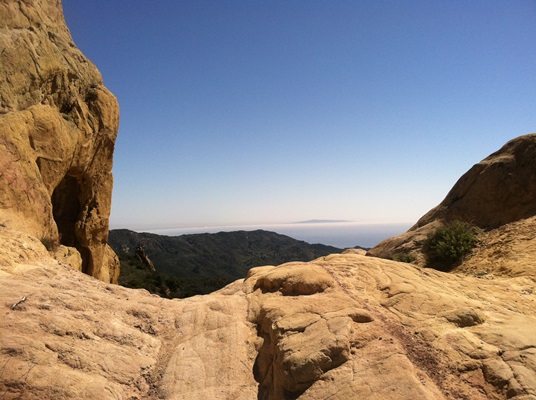 This hike was by far my favorite! It seemed like we were hiking a whole different mountain system that rocked! For the most part the trails led us on parts of chaparral, meadows, oak woodlands and a small but amazing portion of rock outcrops. I personally enjoy geography and geology, so seeing some of the formations was exciting for me such as the photo above. Seeing this outcrop up-close seemed so surreal. I've been to Circle X Ranch, that is another one of my favorites, to appreciate the geology there, but this was like a whole new world for me.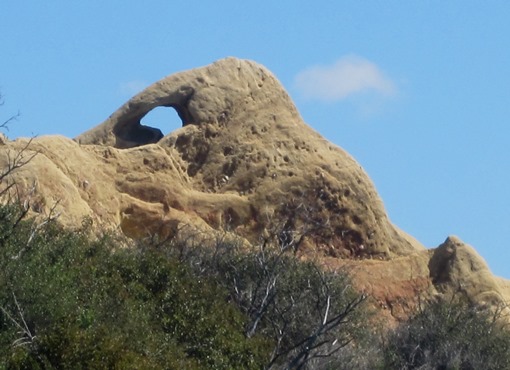 The interpreter mentioned an interesting outcrop as the Elephant Rock. At a certain angle you can see an elephant posing on top on the summit, as seen in the image to the left. Though it doesn't have a formal title, I am sure it is obvious and others would agree to call it Elephant Rock. Many of our hikers enjoyed this view and there was plenty photo ops for this big guy.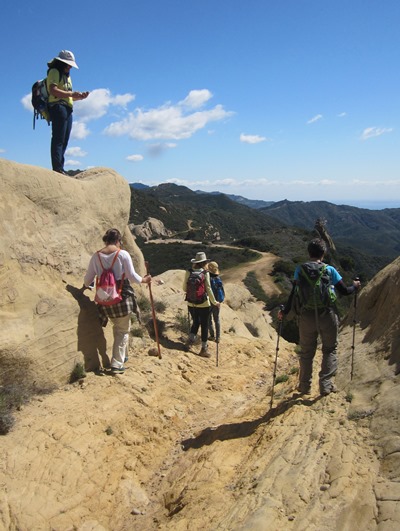 Then at last we came upon our lunch break. The interpreters couldn't have chosen a better place to sit and enjoy the scenery, except for the minimal shade. It was a warm day and having shade would have been superior. Oh well, at least some of the hikers were able to work on their tan, as for me (I cheated), I found a shady spot right away.

The rock outcroppings crested the mountain side along with a beautiful ocean view. As you can see in the image to the right, this was our lunch spot. And as always our fearless hikers were ready to continue thier journey on the trail.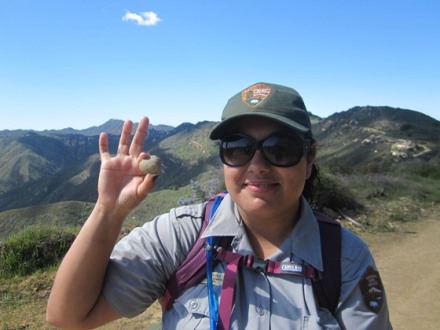 We continued on our hike with more geology along the way, the best part of geology - fossils!!!! Fossils so small it was incredibly easy to keep walking without knowing they existed on the trails. The fossils we saw were marine fossils, which were turritella, snails, clams, and worm tubes. The interpreters took the time to point them out and shared a piece of geologic time and reminded the hikers these items are better cherished when left behind. Everyone had a chance to see them, hold them and replace them, so future visitors - hopefully like you - can go by and see them as well.

We finished our 9.5 mile adventure. I was so excited about the hike I couldn't wait to go back and visit the area again. In fact, I enjoyed it so much that I even went back on my day off to hike a small portion of it. If you are interested in visiting this area, visit our Interagency Visitor center for more details.

Until next time - Ranger Razsa
Excursión # 5 - Rocas en el sendero del Backbone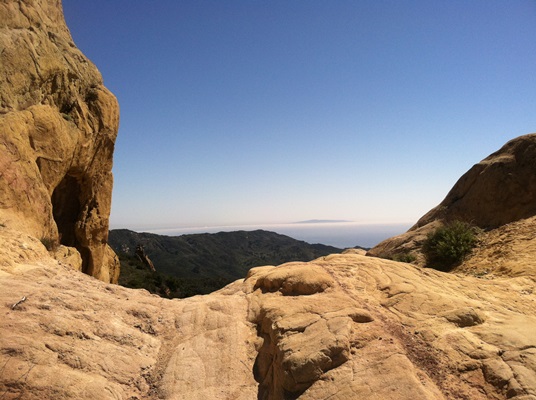 ¡Esta caminata fue mi favorita! Parecía como si estuviéramos en una excursión de un sistema diferente de las montañas. La mayoría de la caminata fue en partes de chaparral, praderas, bosques de robles y una parte pequeña que fue impresionante de afloramientos rocosos. Yo personalmente disfruto geografía y geología, así que ver algunas de las formaciones fue muy emocionante para mí, vea la foto de arriba. Al ver esto afloramiento de cerca parecía tan surrealista. He estado en Circle X Ranch, que es otro de mis favoritos, para apreciar la geología allí, pero esto era como un mundo completamente nuevo para mí.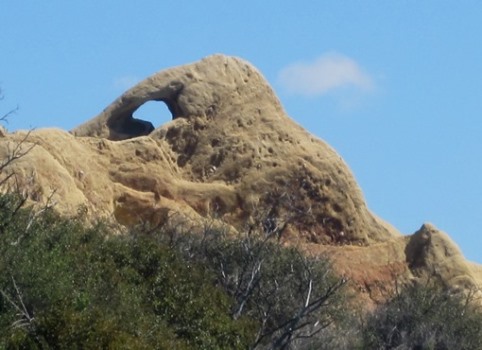 El intérprete mencionó un afloramiento interesante como la "Piedra de Elefante." En un cierto ángulo se puede ver al elefante que presenta en la parte superior en la cumbre, como se ve en la imagen a la izquierda. No tiene un título formal, pero estoy segura que es evidente que los demás estarían de acuerdo en llamarlo "Piedra de Elefante." Muchos de nuestros caminantes disfrutaron este punto de vista y había un montón de sesiones de fotos para este afloramiento.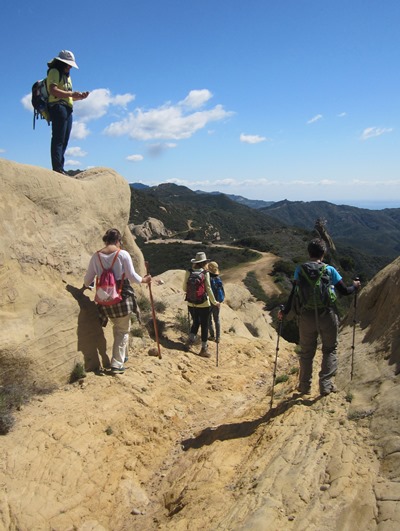 Por fin llegamos a la hora del almuerzo. Los intérpretes no podrían haber elegido un mejor lugar para sentarse y disfrutar del paisaje, a excepción de la sombra mínima. Era un día cálido y con sombra habría sido superior. Al menos algunos de los excursionistas pudieron trabajar en su bronceado, para mí (yo hice trampa), encontré un lugar de sombra inmediatamente.

Los afloramientos crestan de la ladera de la montaña con una hermosa vista al mar. Como puedes ver en la imagen a la derecha, nuestro lugar de almuerzo. Nuestros excursionistas estaban listos para continuar en el camino.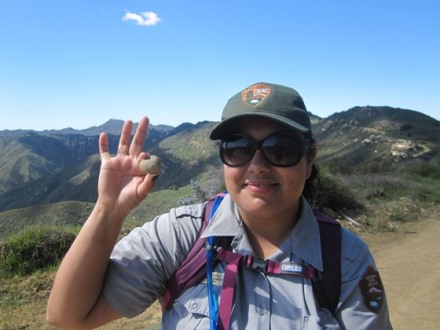 Continuamos nuestra caminata. Más geología a lo largo del camino, con la mejor parte de la geología - ¡Fósiles! Los fósiles eran tan pequeños que era increíblemente fácil de seguir caminando sin saber que existía en los senderos. Los fósiles que vimos eran fósiles marinos, que eran turritella, caracoles, almejas, y gusanos de tubos. Los intérpretes se tomaron el tiempo para mostrarlos y compartir un pedazo de tiempo geológico y mencionaron a los excursionistas que estos artículos son más apreciados cuando los dejas atrás. Todos tuvieron la oportunidad

de verlos, mantenerlos y reemplazarlos, para los futura visitantes - con suerte puede ser usted - puedes pasar y verlos también.

Terminamos nuestra aventura de 15.3 kilómetros. Yo estaba tan emocionada con la caminata que no podía esperar a volver a visitar la zona otra vez. Me gustó tanto, que hasta volví en mi día libre para ir de excursión en una parte pequeña de ella.

Hasta la próxima vez - Ranger Razsa