Hike #3 - A True Recreational Park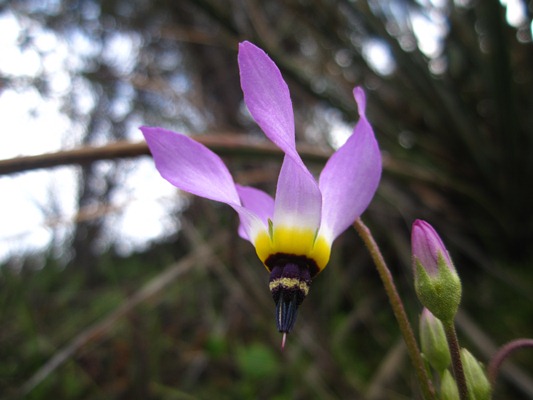 What a morning! It was cold but well worth it. We stopped shortly after starting our hike to see a small patch of flowers. They were so easy to miss, that I am glad somebody from the group spotted them. As you can see in the photo to your right, these are Shooting Stars. As the interpreter mentioned these are quite unique flowers. You can see the petals erect upwards from the base creating a distinctive appearance and they only bloom for a short time. They bloom roughly from January to April, but most of the time the window is much shorter. Keep your eyes open if you are on the trails for these neat flowers.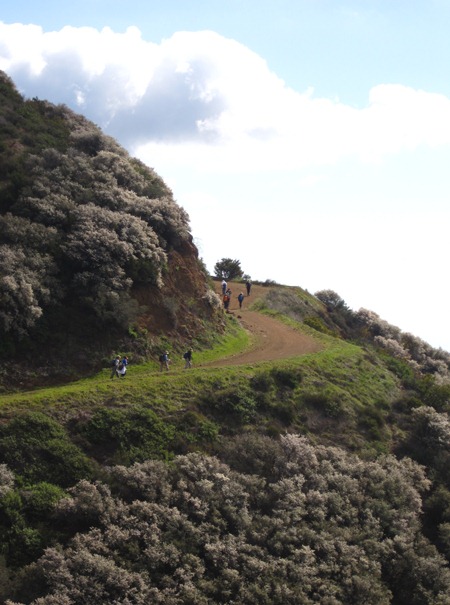 We trekked for 11 miles total and saw some amazing coastal views. The image on the left shows the Ceanothus is still in full bloom and the trails were covered with greenery. The day was clear and the breeze helped our bodies keep cool. As we continued to hike we noticed more chaparral and ocean views. I found myself hiking alone in a few points, where I couldn't hear any one behind me or in front of me. It was nice and relaxing to feel so alone in such a wilderness of a park, knowing that on each side of the trial there was some distant development. You would never think to find trails with tranquility and quietness.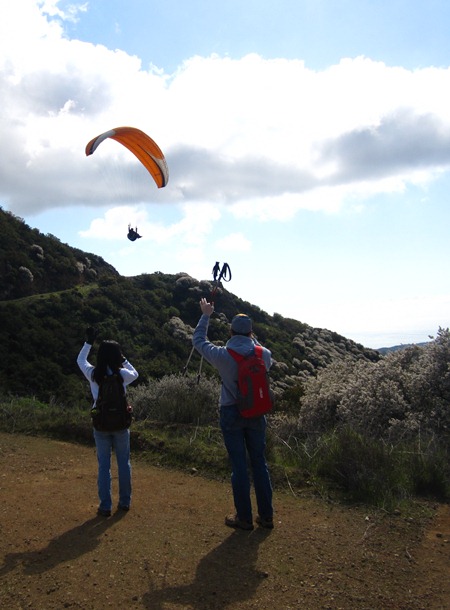 As we hiked, we came upon a person paragliding. This glider brought some amusement to our group. As you can see in the picture, a few hikers waved as the glider passed us by. Who would have thought to see this while they were hiking? This demonstrates how special and unique this park is. Especially in all the various ways you may recreate in the mountains. Though we do not allow this on our park lands, it is legal to start and stop the gliding on private land. They must also stay a certain amount of feet above the surface.

So the next time you are out on the trails think of all the exciting things you can do in the mountains. If you are one to just hike, think of how adventurous it would be to start a new hobby of mountain biking, cycling, surfing…………or who knows paragliding!!!!!

Till next time- Ranger Razsa
Excursión # 3 - Un verdadero parque recreativo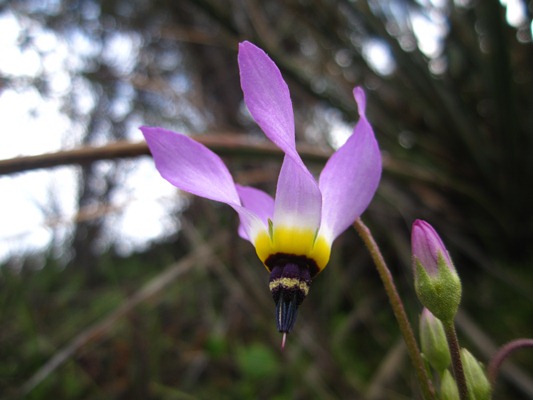 ¡Qué mañana! Hacía frío, pero valió la pena. Nos detuvimos poco después de comenzar la caminata para ver una pequeña parcela de flores. Eran tan fáciles pasar por alto, que estoy contento de que alguien del grupo los vio. Puedes ver en la foto de la derecha, son florecitas de estrellas fugaces. El intérprete mencionó estas son flores muy incomparables. Se pueden ver los pétalos levanten arriba desde la base y crea un apariencia distintiva y que sólo florecen por un corto de tiempo. Florecen aproximadamente de enero a abril, pero la mayoría de las veces la ventana es mucho más corto. Mantenga sus ojos abiertos si usted está en los senderos para estas flores ordenadas.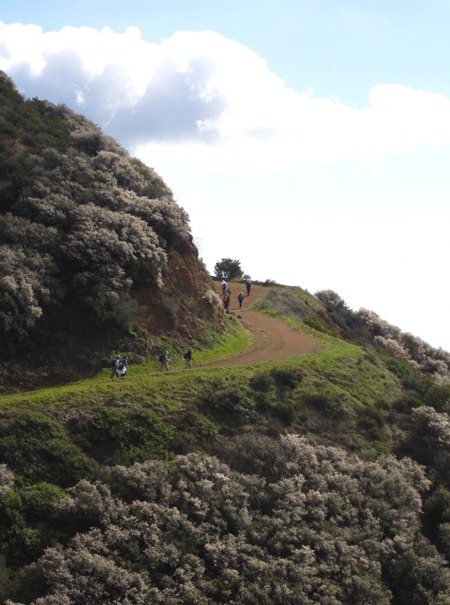 Caminamos por un total de 11 kilómetros y vimos algunas increíbles vistas de la costa. Como se puede ver en la foto de la izquierda, el Ceanothus todavía está en plena floración y los senderos estaban cubiertos de vegetación. El día estaba claro y la brisa fresca ayudó a mantener el cuerpo fresco. A medida que continuamos a caminar nos dimos cuenta más chaparral y las vistas del mar. Me di cuenta que solo en algunos puntos, no podía oír nada detrás de mí o delante de mí. Fue relajante en que se sentí
tan sola en el parque y sabiendo que a cada lado del sendero no había desarrollo. Nunca ocurriría buscar senderos con tanto tranquilidad y silencio.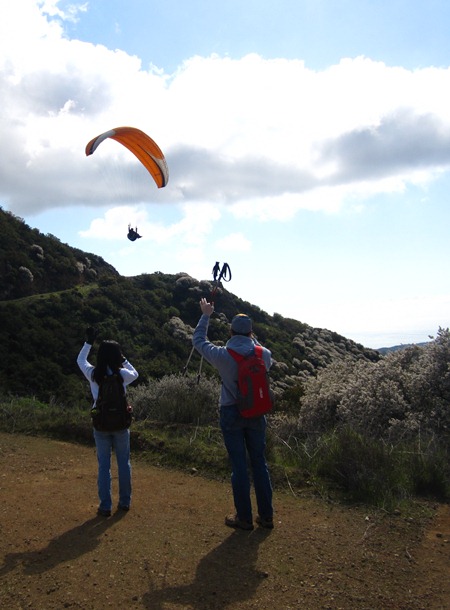 A medida que caminamos, nos encontramos con una persona parapente. Esta actividad trajo un poco de diversión a nuestro grupo. Como se puede ver en la foto, a pocos excursionistas saludó el parapente cuando nos pasó. ¿Quién hubiera pensado que puedes ver esto mientras estaban de excursión? Esto demuestralo especial yúnico, esteparque es.Especialmente en las diversas formas que puede recrear en las montañas. Pero no lo permiten en las tierras de nuestros parques, es legal para iniciar y detener el deslizamiento de tierras privadas. También deben permanecer una cantidad de metros por arriba del plano.

Así que la próxima vez que están fuera de los senderos piense en todas las cosas interesantes que se pueden hacer en las montañas. Si usted es uno de caminar solo, piensa en cómo sería aventurado a comenzar una nueva manía de bicicleta de montaña, montar en bicicleta.... o el surf.



Hasta la próxima vez - Ranger Razsa