Hike #2 - Blossoming Elevations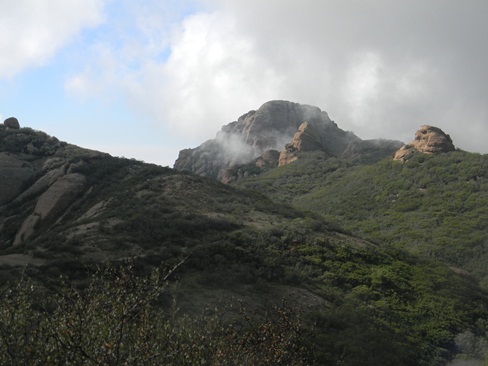 Greetings everyone! I hope you enjoyed the last blog. I know I enjoyed hiking it. This last hike however, was a more strenuous one. We started our 8.8 mile hike at the Mishe Mokwa Trailhead. We treaded up to the highest peak within the Santa Monica Mountains and down to Danielson Multi use area. I learned that we did this trek in reverse due to the parking situation and how complicated that would have been. We hiked to the highest peak at an elevation of 3,111 ft in hopes of a clear view. On a clear day you can see the valleys behind you and the oceans wonders in front. Unfortunately it wasn't as clear as we hoped it would be since we had some cloud coverage and a little rain the day before.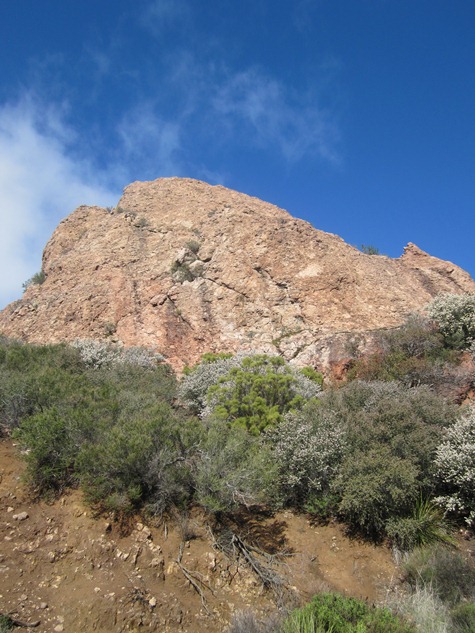 Clouds rolled by slowly as the sun shined through to display the chaparral around us. Many were our infamous drought tolerant plants such as: red shanks, chamise, and Ceanothus. The Big-Pod Ceanothus was blooming profusely that it looked as though our hillside was cover by light snow. In the picture to the left, you can see white patches of a shrub. That is the Big-Pod Ceanothus blooming. In between one spot of Ceanothus, you can see a bright green patch of another shrub. That is the Red Shank popping out. Up close you can identify it by its shredding reddish-brown bark.
As we hiked many of us were stopping to collect more photos of the plants and flowers in bloom. A popular one among the group was the Bigberry Manzanita. It has little white to light pink bells hanging from the tree like shrub and has an amazing smooth reddish trunk and branches. I think most folks were upset because we were heading into lower altitudes and they were missing out on some more chances to retake photos of these nice flowers. As we treaded away from the muddy trails in Circle X we came upon the Chamberlain memorial and that was another great spot for some photo ops. We were getting closer to our end point and going back down into an oak woodland community.

So if you haven't been to Sandstone peak…….Get out there! At least check out the less strenuous trail of the Mishe Mokwa loop. That loop is great during the spring, plenty of wildflowers. So enjoy the parks and see you on the trails!!!!!

(Click here to return to the 2013 Backbone Trail Blog homepage.)
Excursión #2 - Elevaciones en flor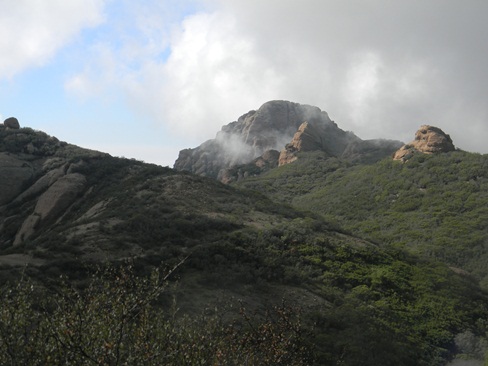 ¡Saludos a todos! Espero que hayan disfrutado el último blog. Esta última caminata sin embargo, era más vigorosa. Comenzamos nuestra caminata de 8.8 millas en el comienzo del sendero Mishe Mokwa. Caminamos hasta el cumbre más alto en las montañas de Santa Mónica y hasta abajo al Rancho de Danielson. Me enteré de que hicimos este viaje a la inversa, debido a la situación del aparcamiento y lo complicado que hubiera sido. Hicimos una excursión a la cima más alta, a una altura de 3.111 pies con la esperanza de un punto de vista clara. En un día claro se puede ver detrás los valles y las maravillas océanos en el frente. Desafortunadamente, no era tan clara como nos esperábamos, hasta tenía un poco de cobertura de nubes y un poco de lluvia el día anterior.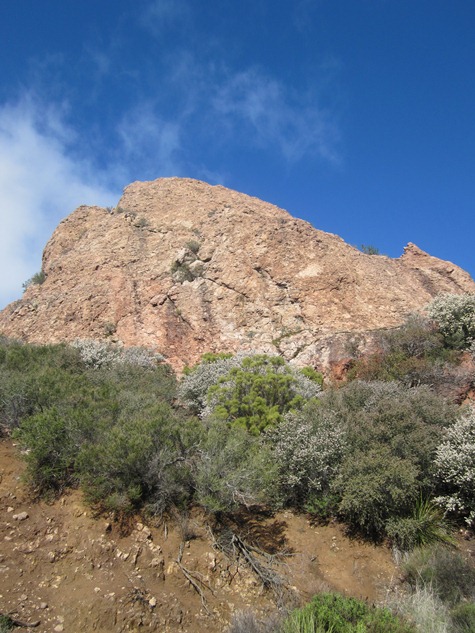 Nubes rodó lentamente mientras el sol brillaba a través de mostrar el chaparral en torno a nosotros. Muchos eran nuestras plantas tolerantes como: rojo vástagos, chamizo, y Ceanothus. Los Ceanothus Big-Pod estaban floreciendo profusamente que parecía que la ladera estaba cubierta de nieve. En la foto a la izquierda, se puede ver manchas blancas de un arbusto. Ese es el Big-Pod Ceanothus floración. En medio de un punto de Ceanothus, se puede ver una mancha verde brillante de un otro arbusto. Esa es la Red Shank salga. De cerca se puede identificar por su color rojizo-marrón triturar corteza.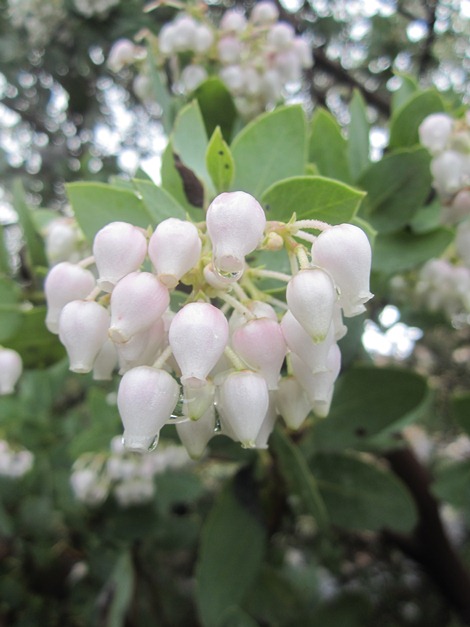 A medida que caminamos muchos de nosotros estábamos parando para recoger más fotos de las plantas y las flores en flor. Una muy popular entre el grupo fue el Manzanita Bigberry. Tiene poco blanco a rosa campanas que cuelgan del árbol como arbusto y tiene un increíble tronco liso de color rojizo y ramas. Creo que la mayoría de la gente se molesta porque nos destinábamos a altitudes más bajas y perdiendo algunas oportunidades para tomar más fotos de estas bonita flor.

Caminamos los senderos lodosos en Circle X nos encontramos con el monumento Chamberlain y que fue otro gran lugar para algunas sesiones de fotos. Nos estábamos acercando a nuestro punto final y volver a bajar en una comunidad de bosques de robles. Al fin, llegábamos al Rancho de Danielson.
Si usted no ha visitado al Sandstone Peak ....... ¡Sal ahí fuera! Por lo menos hecha una visita a los senderos menos vigoroso de Mishe Mokwa. Ese lazo es genial durante la primavera, con un montón de flores silvestres. ¡Así que disfruten en los parques y nos vemos en los senderos!

(Haga clic aquí para volver a la página principal Blog 2013 Backbone Trail.)