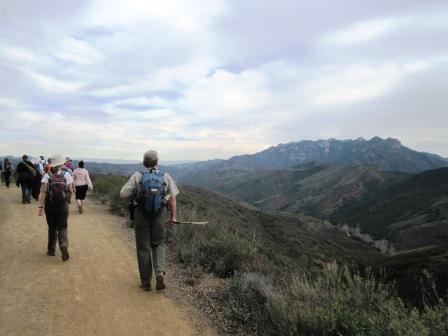 As the morning went on, we stopped to talk about the mountains on our approach to that first summit. What makes them so rare?
Did you know this park has a Mediterranean-type climate found in only four other places in the world? South Africa, Western Chile, Southwestern Australia, and the Mediterranean basin are the others. Cool wet winters and hot dry summers help control this. Take a look at the pictures; where else can you hike in short sleeves or a light jacket, in mountains, in January?
The next 2 miles took us along the Overlook Fire Road. This ridgeline separates La Jolla Valley from Sycamore Canyon. If we were to get to Danielson Ranch in Sycamore Canyon, we had to take this north to the Wood Canyon Vista Trail.
Along here, sweeping views of grasslands and Coastal Sage Scrub plant communities fill long vistas looking towards nearby valleys and far away mountains. Signage is good along here but trail maps are always a good idea to have.
Once we got to the Wood Canyon Trail, it was down hill to the Sycamore Canyon Trail for 1.8 miles. At the bottom, we took lunch and learned about another type of plant community, the Sycamore Savannah, naturally in Sycamore Canyon.