Backbone Trail 2012
Hike #1 - Point Mugu State Park
Video may take a few moments to load below. Thank you for your patience.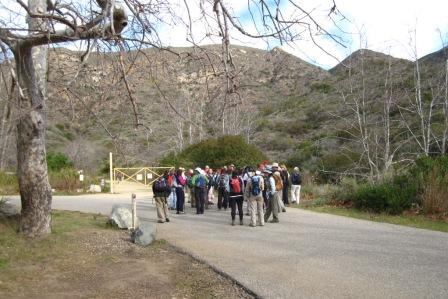 Take a moment and think to yourself about a time in your life when you were about to embark on something so new, you were doing a little happy dance. Then think of a time where you were so familiar with the activity you didn't think twice about what you were doing, like something out of your morning routine. While you're at it, be nervous, curious, scared, and excited.
That was me at the trailhead as we started on the Backbone Trail. You might think, "The ranger was all those things?" Yeah, the ranger was.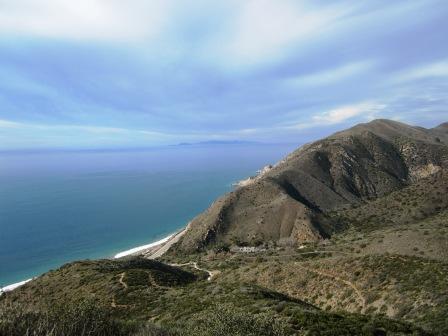 I've been hiking my whole life and as I shared with you in the first post, this section of the Santa Monica Mountains was near where I had my first over-night backpack. And yet, even though I had many experiences, those same feelings were returning as forty-one of us (hikers and park volunteers) set out on the first leg of this multi-day journey. That's the magic and beauty of hiking. It gives you an emotional and intellectual connection to our park's resources and assets; no matter how many times you do it.
Our day began early at the Ray Miller Trailhead. Low level clouds were keeping the morning cool and the sun was trying to force itself through. The first section of this trail is steep - a 910 ft elevation gain in 2.7 miles. As you can imagine, we were okay with a little cloud cover.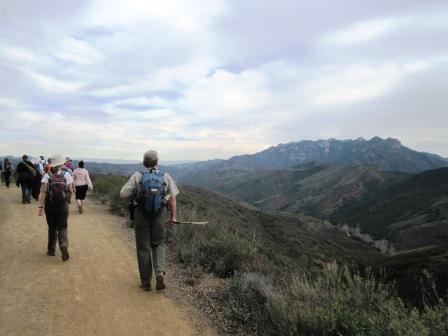 As the morning went on, we stopped to talk about the mountains on our approach to that first summit. What makes them so rare?
Did you know this park has a Mediterranean-type climate found in only four other places in the world? South Africa, Western Chile, Southwestern Australia, and the Mediterranean basin are the others. Cool wet winters and hot dry summers help control this. Take a look at the pictures; where else can you hike in short sleeves or a light jacket, in mountains, in January?
The next 2 miles took us along the Overlook Fire Road. This ridgeline separates La Jolla Valley from Sycamore Canyon. If we were to get to Danielson Ranch in Sycamore Canyon, we had to take this north to the Wood Canyon Vista Trail.
Along here, sweeping views of grasslands and Coastal Sage Scrub plant communities fill long vistas looking towards nearby valleys and far away mountains. Signage is good along here but trail maps are always a good idea to have.
Once we got to the Wood Canyon Trail, it was down hill to the Sycamore Canyon Trail for 1.8 miles. At the bottom, we took lunch and learned about another type of plant community, the Sycamore Savannah, naturally in Sycamore Canyon.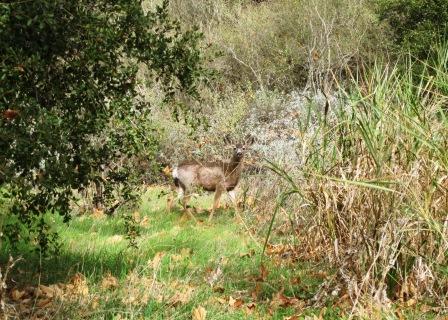 From here it was just another short push (1.5 miles) to Danielson Ranch - our ending point for the day. This Oak Woodland (another type of plant community) is an area that is used by equestrians and groups for overnight trips. As you can see, this is also an area thoroughly enjoyed by wildlife as well, such as the mule deer seen to the left.
Thus our completed millage so far is: 8.1
Till next time.
To learn more about this section of trail, you can visit the information page by clicking the name of the section: Ray Miller Trailhead to Danielson Ranch
(Click here to return to the 2012 Backbone Trail Blog homepage.)