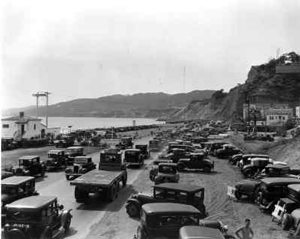 Photo from Caltrans
Congress recognized the significance of the Santa Monica Mountains as an escape from poor air quality in the surrounding cities. In the recreation area's enabling legislation, public law 95-625 specified that "...the Secretary shall manage the Recreation Area in a manner which will preserve and enhance...its public value as an air shed for the Southern California metropolitan area."
Since the 1940s air quality measurements taken adjacent to the Santa Monica Mountains in urban Los Angeles have been the worst in the United States.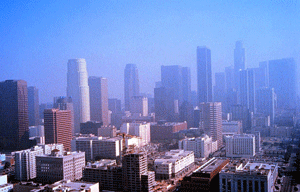 Air Quality Board
Atmospheric circulation patterns influence the intensity of smog in Southern California. The development of especially strong temperature inversions, which inhibit vertical air mixing, occurs especially during the summer months. In the presence of temperature inversions, visibility is greatly decreased and pollutants are trapped close to the ground in the basins of the Los Angeles metropolitan area. Lower air quality occurs during the summer due to the combination of persistent, strong inversion layers with intense solar radiation, which increase the photochemical reactions that contribute to the amount of ozone produced. During the winter, lower weakened inversion layers, a result of less intense solar radiation, dissipate during the winter afternoons as direct solar radiation reaches a peak and heats the ground surfaces, causing air to rise and creating convective air currents.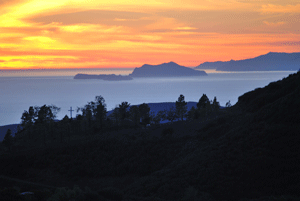 Air quality in the vicinity of the Santa Monica Mountains varies widely as a result of physiography, climatological conditions, the location or presence of an inversion layer, distance from the coast and the amount of pollutants emitted into the atmosphere. Overall, coastal areas experience better air quality than interior valleys and the Santa Monica Mountains exhibit better air quality than the surrounding urban landscape. As a result of air quality standards instituted with the California Clean Air Act, air quality has improved in the Los Angeles area since monitoring began. However, localized air quality in the mountains would likely continue to degrade as long as expanding development results in increased traffic volumes in and around the mountains.
Interested in the learning what that air quality is of where you are or where you're going? Visit the AirNow website to find local air quality conditions.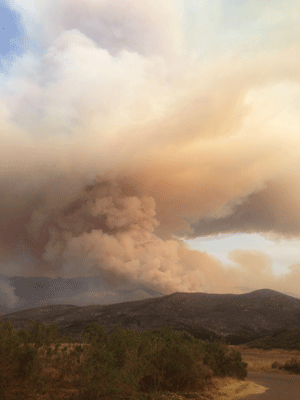 The ecological effects of poor air quality in the Santa Monica Mountains are not well known, although it is clear from studies in other parts of Southern California that declining air quality does impact native plant communities. For example, pollutants contribute to nitrogen deposition on foliage, which in turn can favor the invasion of natural communities by non-native plants and also causes a decline in water quality.
This has been a significant problem in coastal sage scrub areas in other parts of Southern California. In the Santa Monica Mountains, prevailing winds keep the air relatively clean, so similar impacts are likely not as severe.