Fishing Prohibition on Hold

On 8/20/14 the park issued a rule change prohibiting fishing throughout the park due to concerns over water quality and visitor safety. The fishing prohibition is now on hold, pending further review - click for more information. More »
Operating Hours & Seasons
Salem Maritime National Historic Site is a National Park in an urban setting. The grounds, trails, wharfs and outdoor exhibits are typically open 24 hours/day, 7 days a week. The park's historic buildings, the Friendship of Salem, and various tours/programs are open by seasonal schedule. All park facilities are closed on Thanksgiving, December 25th, and January 1st.

Tours, Films and Programs
Click here for a list of all current tours, schedules and programs in the park. [Updated August 31st, 2014]

The National Park Service Visitor Center in Salem
2 New Liberty Street - (978) 740-1650
Open
Daily, 9:00am-5:00pm
Closed
January 1st, Thanksgiving Day, December 25th.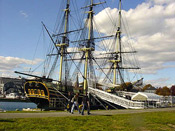 Friendship of Salem
Derby Wharf - (978) 740 -1650
Open
By scheduled tour only. (Nov - April)
By scheduled tour, open ship, special events. Call for details. (May - Oct)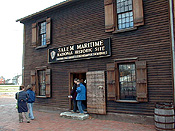 Orientation Center
193 Derby Street - (978) 740-1660
Closed in 2014. (Potential Opening TBD).



Did You Know?

Over 150 feet of shelving is needed to store the Customs Service records from the ports of Salem and Beverly at the National Archives' New England facility in Waltham, MA. More...