Operating Hours & Seasons
Salem Maritime National Historic Site is a National Park in an urban setting. The grounds, trails, wharfs and outdoor exhibits are typically open 24 hours/day, 7 days a week. The park's historic buildings, the Friendship of Salem, and various tours/programs are open by seasonal schedule. All park facilities are closed on Thanksgiving, December 25th, and January 1st.

Tours, Films and Programs
Click here for a list of all current tours, schedules and programs in the park. [Updated August 31st, 2014]

The National Park Service Visitor Center in Salem
2 New Liberty Street - (978) 740-1650
Open
Daily, 9:00am-5:00pm
Closed
January 1st, Thanksgiving Day, December 25th.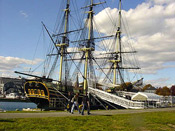 Friendship of Salem
Derby Wharf - (978) 740 -1650
Open
By scheduled tour only. (Nov - April)
By scheduled tour, open ship, special events. Call for details. (May - Oct)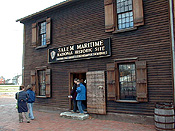 Orientation Center
193 Derby Street - (978) 740-1660
Closed in 2014. (Potential Opening TBD).



Did You Know?

The largest customs duty bill collected at the Port of Salem was $140,761 when the ship Sumatra returned from Canton in 1831.