Operating Hours & Seasons
Salem Maritime National Historic Site is a National Park in an urban setting. The grounds, trails, wharfs and outdoor exhibits are typically open 24 hours/day, 7 days a week. The park's historic buildings, the Friendship of Salem, and various tours/programs are open by seasonal schedule. All park facilities are closed on Thanksgiving, December 25th, and January 1st.

Tours, Films and Programs
Click here for a list of all current tours, schedules and programs in the park. [Updated July 1st, 2014]

The National Park Service Visitor Center in Salem
2 New Liberty Street - (978) 740-1650
Open
Daily, 9:00am-5:00pm
Closed
January 1st, Thanksgiving Day, December 25th.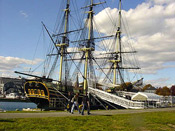 Friendship of Salem
Derby Wharf - (978) 740 -1650
Open
By scheduled tour only. (Nov - April)
By scheduled tour, open ship, special events. Call for details. (May - Oct)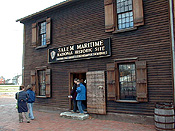 Orientation Center
193 Derby Street - (978) 740-1660
Closed in 2014. (Potential Opening TBD).



Did You Know?

Salem native Captain John Derby was the first to bring news of the Battle of Lexington and Concord to England when he sailed from Derby Wharf in April 1775. In 1783, Captain John Derby was also the first person to bring news of the signing of the Treaty of Paris to America.