More Sea Music Festival Performers 2013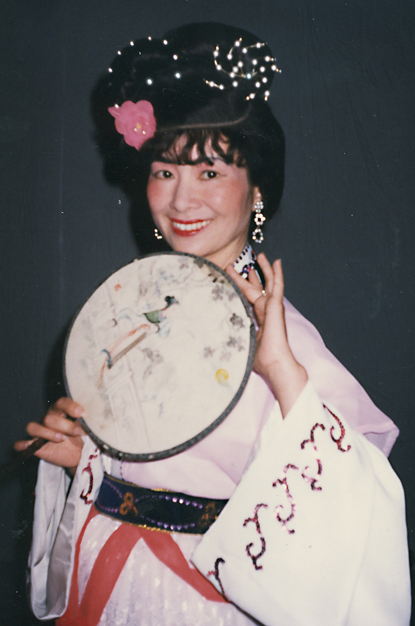 Wilma Pang
Professor Wilma Pang sings "Beautiful Flowers and the Full Moon,"a short excerpt from a Cantonese Opera aria to coincide with the Sea Music Festival and the Moon Festival. Moon Festival is the second largest celebration; this year it falls on the 19th of September. Wilma will be accompanied by the Chinese Instrumental Ensemble. Some of the traditional pieces will also be featured, such as "Autumn Moon Over the Ping Lake."
Prof. Pang is a faculty member of City College of SF. She recently pioneered "Only in SF Chinatown" where traditional singing and music is performed on different locations along Grant Ave, Portsmouth Square, and Broadway and Grant.
Prof. Pang sings Cantonese Opera as well as Italian Opera and anything in between --Chinese folksongs to pop.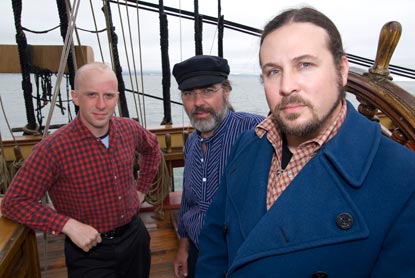 Salty Walt and the Rattlin' Ratlines
Named "San Francisco's Favorite Sea Chantey Band" Salty Walt & The Rattlin' Ratlines enjoy the close harmonies, instrumentation, and the camaraderie a group affords them as they perform at a broad variety of events around the Bay Area.
Known for his powerful voice and authentic style, Walter Askew has been featured at Mystic Sea Music Festival and the Chicago Maritime Festival as well as performing internationally in Britain, Germany and the Netherlands. Walter's love of history and traditional culture has led him to work at historical sites on both coasts including San Francisco Maritime N.H.P. and sail tall ships such as the Hawaiian Chieftain, and the Kalmar Nyckel, teaching and singing as he goes.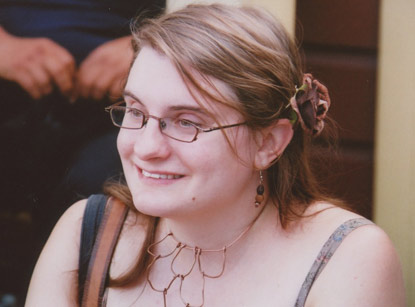 NPS
Autumn Rhodes grew up surrounded by Irish music in the house. She took up the tin whistle at age 12, and soon after started playing Irish flute, concertina, uilleann pipes, and bouzouki. She started to play professionally at age 13 or so, and went on to win gold medals in several Midwest Fleadhs through the years on flute, tin whistle, concertina, lilting, and English & Irish language singing.
She has toured throughout the US with bands such as Soltré, Kennedy's Kitchen, Míra, Meitheal, The Colleens, The Wrenboys, Kilty Town, The Jammy Dodgers, and The Emperor Norton Ceili Band. She has played in duos with multi-instrumentalists Julie Henigan and harpist and singer, Susan Mashiyama. She has also performed with Irish dance troupes such as Éireforce, Kaleidoscope, and Celtic Fire. These days, she splits her time between the San Francsico Bay Area and Northern Indiana, playing with a number of Irish and old time American bands.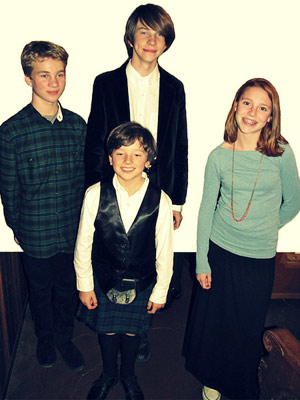 Photo courtesy Tuula Cotter
Fiddle Rising director and fiddler Tuula Cotter presents exciting and talented young musicians in a program of foot-tapping, rollicking traditional tunes. Zane (15) and Cullen (10) Luper have been coached by Tuula Cotter in traditional violin arts, and study Suzuki violin with teachers Ed and Heidi Wilcox.
Claire Ongaro (15) has trained with Tuula Cotter since the age of nine when she developed a passion for Irish and Scottish fiddle music. She performs regularly with Fiddle Marin, Fiddle Rising, and the San Francisco Scottish Fiddlers.
Matias Arizmendi, well-versed on both guitar and violin, has training in celtic, classical, and jazz guitar. Matias, along with the Lupers, has attended Alasdair Fraser fiddle camps which offer exposure to a number of guitar and fiddle styles.