Ferryboat EUREKA closed for maintenance.

Ferryboat EUREKA is closed beginning March 11 through the end of the month for maintenance. The gangway that links the ship to the pier needs to be raised so it can be repaired.
Bird Walk With a Park Ranger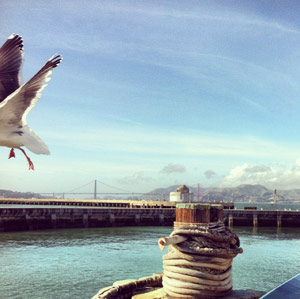 On Saturday morning join Ranger Carol on a 90 minute easy, bird-spotting stroll around the park. All ages welcome, free. December 15, 10am, pier. More info: 415-447-5000.

Post A Comment
Did You Know?

This "Plimsoll Mark" is painted on the port side of Balclutha and named for Samuel Plimsoll, an Englishman who fought to pass the Merchant Shipping Act of 1876. Before this law, many ships were dangerously overloaded and many sank. These "coffin ships" claimed the lives of many sailors. More...