Ferryboat EUREKA closed for maintenance.

Ferryboat EUREKA is closed for maintenance. The gangway that links the ship to the pier is being repaired.
Birds of the Bay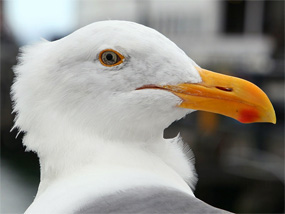 NPS Dan Ng
Saturdays, February 16, March 9, April 20, and May 4, 10-11:30 am. Meet at the entrance to Hyde Street Pier. FREE.

All are welcome including children and beginners. We will view water, shore, citified, and migratory birds on this easy stroll. There will be a brief orientation to spotting birds, and to using guidebooks and binoculars. Dress in layers with sun hat and sunscreen. Bring your own guidebooks and binoculars if you have them.

Get a list of the 10 most common birds at the park

Impress your friends by knowing the names, and a fun fact, about each of the 10 most commmon birds by using this check list!! Read More
Did You Know?
Animals once served as important members of a ship's crew. Even though many of them worked to control pests or provide food, their main function was to serve as ship's mascot. The dogs, cats, birds, monkeys, and even bear cubs that went to sea as mascots, can often be seen in formal crew portraits. More...