Hyde Street Pier Closed Mondays through Thursdays (July 24 - August 20)

For public safety, Hyde Street Pier will be closed mid-pier Mondays - Thursdays from July 24 - August 20 during replacement of Eureka's mooring piles. There is no access to the historic ships. The visitor center, Maritime Museum & Aquatic Park are open. More »
Birds of the Bay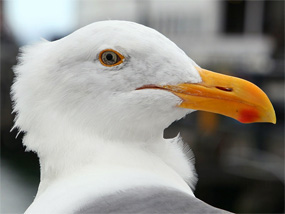 NPS Dan Ng
Saturdays, February 16, March 9, April 20, and May 4, 10-11:30 am. Meet at the entrance to Hyde Street Pier. FREE.

All are welcome including children and beginners. We will view water, shore, citified, and migratory birds on this easy stroll. There will be a brief orientation to spotting birds, and to using guidebooks and binoculars. Dress in layers with sun hat and sunscreen. Bring your own guidebooks and binoculars if you have them.

Get a list of the 10 most common birds at the park

Impress your friends by knowing the names, and a fun fact, about each of the 10 most commmon birds by using this check list!! Read More
Did You Know?

Wheat -- California's other Gold Rush. The discovery of gold in 1848 brought sudden wealth and population growth to San Francisco. But wheat, California's golden grain, and first major export product, established San Francisco Bay as a port for world trade. More...