Birds of the Bay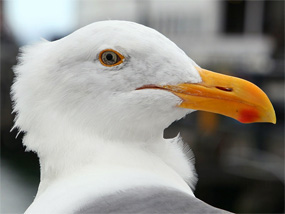 NPS Dan Ng
Saturdays, February 16, March 9, April 20, and May 4, 10-11:30 am. Meet at the entrance to Hyde Street Pier. FREE.

All are welcome including children and beginners. We will view water, shore, citified, and migratory birds on this easy stroll. There will be a brief orientation to spotting birds, and to using guidebooks and binoculars. Dress in layers with sun hat and sunscreen. Bring your own guidebooks and binoculars if you have them.

Get a list of the 10 most common birds at the park

Impress your friends by knowing the names, and a fun fact, about each of the 10 most commmon birds by using this check list!! Read More
Did You Know?

EUREKA is a wooden-hulled, sidewheel paddle steamboat. From the passenger deck up, she is nearly identical fore and aft. Her "double-end" design made disembarking quicker and easier. EUREKA'S large "walking beam" steam engine remains intact. More...