Renseignements

Itinéraire
Le lieu historique international de I'Île-Sainte-Croix est facilement atteint avec un véhicule privé. Le site est situé huit miles au sud de Calais, Maine sur la US Route 1, et peut être atteint soit par la Route 9 de Bangor ou la US Route 1, la route côtière de Portland. Le stationnement est situé à gauche après l'entrée du site.
Plusieurs compagnies aériennes desservent l'aéroport de Bangor, Maine (103 miles) ou celui de Saint John au Nouveau-Brunswick, Canada (80 miles). Il y a des agences de locations de voitures dans les deux aéroports.
L'accès à I'Île ne peut se faire que par bateau privé. Les visites de I'Île elle-même ne sont pas recommandées en raison de sa nature fragile.

Cartes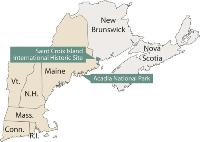 Locator Map - de la Nouvelle-Angleterre et du Nouveau-Brunswick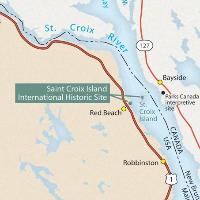 Area map - carte routière de la région


Heures et saisons d'ouverture
Le site est ouvert tous les jours du lever du soleil au coucher du soleil. Pendant l'hiver, les statues de bronze le long du sentier sont couvertes pour les protéger des intempéries.


Coût & Réservations
L'entrée du lieu historique international de l'Île-Sainte-Croix est gratuite.


Voyages Organisés
Tous les tours à but lucratif qui voudraient utiliser la rampe rudimentaire de lancement de bateaux situé sur le site continental sur las US Route 1 doivent d'abord obtenir une autorisation pour usage commercial, disponible auprès du directeur des concessions à Acadia National Park. Le coût d'un permis s'élève à $200 pour une période du deux ans. Pour plus d'informations, contactez le directeur des concessions au (207) 288-8705 ou par courriel (email).
Notez que la commercialisation est interdite sur l'Île Sainte-Croix pour protéger les ressources naturelles et culturelles. Les voyages à but lucratif ne sont pas autorisés sur l'île.

Did You Know?

Saint Croix Island was originally called "Muttoneguis" by the Native Americans who had used it for many years before the French arrived. The island is protected today as part of Saint Croix Island International Historic Site.