Our Story
Saint Croix Island is the 1604 site of the first French attempt to colonize the territory they called l'Acadie and the location of one of the earliest European settlements in North America. Members of a French expedition led by Pierre Dugua, intending to colonize North America, settled the island in 1604.

Seventy-nine members of the expedition, including Samuel Champlain, passed the severe winter of 1604-1605 on the island. Thirty-five settlers died, apparently of scurvy, and were buried in a small cemetery on Saint Croix Island. In spring 1605 the Passamaquoddy, befriended by the French, returned from their winter sojourn to the shores of Saint Croix Island. They traded game for bread and the health of the remaining settlers improved. Pierre Dugua made the decision to move the colony and founded the settlement of Port Royal, in today's Nova Scotia.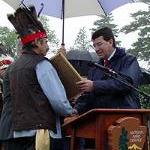 NPS
Resources
To learn more view this short movie and reference the timeline of Saint Croix Island's past 400 years.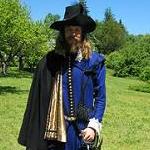 NPS/Ginny Reams
Pierre Dugua, Sieur de Mons
In 1604, Dugua formed a company of merchants and led a group of French settlers, including Samuel Champlain, to North America. Click here to learn more about Pierre Dugua and Saint Croix Island.