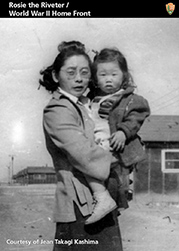 Prisoners in their Own Land
Amy Oishi Takagi and Jean Takagi Kashima
After Pearl Harbor was attacked in 1941, Japanese in the US were treated as if they were the enemy. Over 120,000 men, women, and children--2/3 of them US citizens-- were imprisoned in ten remote camps around the country. Jean was the first child born at Topaz War Relocation Center, Utah, 1942. Her family returned to Richmond after internment.