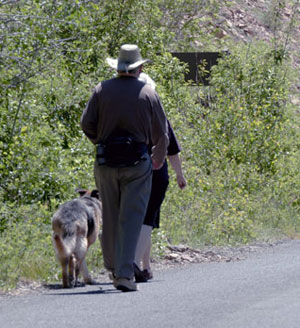 NPS/Biddle
Pets are permitted in Rocky Mountain National Park, however they are not permitted on trails or in the backcountry. They are allowed only in areas accessed by vehicles, including roadsides, parking areas, picnic areas and campgrounds. They must be kept on a leash no longer than six feet and attended at all times. Pet etiquette dictates always cleaning up after your pet and disposing of waste in trash receptacles.
Dogs and cats are considered to be unnatural predators in a natural environment. Pets may harass and even kill wildlife, carry disease and intrude on other park visitors' experiences. Pets are also prey for larger carnivores like mountain lions and coyote packs.
Do not leave pets unattended in vehicles. Interior temperatures of vehicles rise within minutes and pets can quickly overheat and die, even with the windows cracked. Pet boarding facilities are available in Estes Park and Grand Lake.
Some adjacent US Forest Service lands do allow leashed pets on trails and in the backcountry. For more detailed information about the park's pet policy, including alternative locations to hike with your pet, download our Pet Brochure.
Service Animals
Service animals that have been individually trained to perform specific tasks for the benefit of persons with disabilities are allowed in the park. Emotional support ("therapy animals") are not service animals under the Americans with Disabilities Act and may not access trails or other non-motorized areas.